A calm escape within your home is a precious opportunity in a world moving at breakneck speed. PAsunrooms is your partner in creating your ultimate wellness haven. We invite you to indulge in a serene space of self-care and sunshine. Wellness is a lifestyle and a philosophy that reflects your innermost values and aspirations in the best light. Elevate your home with a sunroom that takes your yoga to the next level.
Your sunroom can serve as an at-home yoga studio and your sanctuary of balance and vitality. Are you ready to embark on a new journey with PAsunrooms? Join us in nurturing zen and uplifting well-being.
Advantages of an At-Home Yoga Studio in Your Sunroom
You could step into a realm where comfort dances with convenience and enjoy an oasis for your yoga regimen within your living space. Would you still want to travel through traffic to reach your weekly yoga class when you could embrace the serenity of your sunroom sanctuary every day? Here, every ray of sunshine beams in alignment with your unique style.
PAsunrooms exists for yoga enthusiasts like you! You can sharpen your focus and proudly practice flowing from grand rising stretches to sunrise poses in private. When deciding how spacious your at-home yoga studio should be, remember to keep a balanced sweet spot between large and small that complements your movement and flows.
Must-Have Items for Your Sunroom Yoga Studio
The following essentials are necessary to elevate your yoga practice to new heights:
Your yoga mat as a foundation will be the sacred space connecting you to the Earth.
Bands and blocks will serve as mindful guides enriching each move.
A sound system will fill the air with soothing melodies in a harmonious rhythm.
Creating a Serene Sunroom Yoga Studio
Bask in the gentle embrace of natural light as it cascades into your sunroom, and let the illuminating touch breathe peace into your zen zone. Fill your spirit by adding some decor:
Nurture your connection with nature with indoor plants.
Transcend the mundane with mandala motifs and mirrors.
Set the scene with meaningful statement statues.
Dazzle your eyes with dreamcatchers.
Relax to the resounding rings of a wind chime.
Making Your Home Feel Like a Yoga Studio
Experiment with essential oils and fragrances in your space to awaken your senses, and incorporate the profound philosophy of yoga into your sunroom's decor. Deepen your yoga routine with these sunroom options:
Integrate your yoga lifestyle into your living space with any PAsunrooms option.
Regulating Temperature in Your Sunroom Yoga Studio
Comfort is critical to an effective yoga practice. Transition through your asanas with perfect optimal room temperature settings. You can warm or cool your sunroom yoga studio as desired and strike the ideal balance between warmth and freshness that nourishes your body and soul. Transform your sunroom into a temperature-regulated nirvana by building a hot yoga studio with a wood-burning or gas fireplace or using smart thermostats.
Selecting the Ideal Flooring for Your Sunroom Yoga Studio
Consider the pivotal role your sunroom's flooring plays in your yoga practice. The texture beneath your feet must be slip-resistant and sturdy to support your flows. Delve into the wide range of sunroom flooring options like tile and hardwood, and see which resonates with your vision of a serene yoga sanctuary.
Start Your Journey to Wellness With PAsunrooms
PAsunrooms is your companion on your journey toward holistic well-being — indulge in the essence of a sunroom yoga studio in your home. Contact us today to schedule your free in-home consultation and let us build your sanctuary.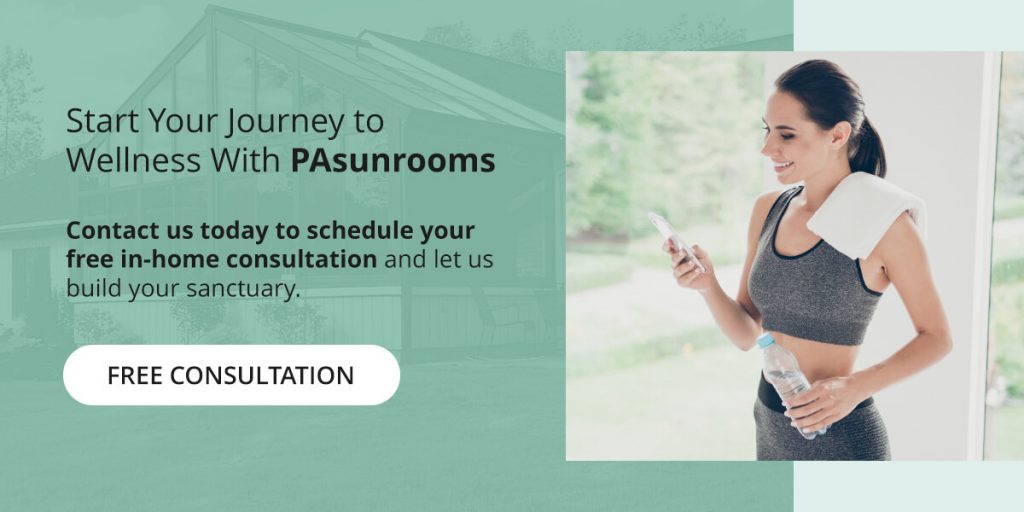 Frequently Asked Questions
A sunroom is an amazing investment, amplifying the value of any home for an array of uses. Read our frequently asked questions about turning a sunroom into an at-home yoga studio below.
1. How Big Should a Home Yoga Studio Be?
The ideal size of a home yoga studio depends on your preferences and available space.
2. How Do I Make My House Feel Like a Yoga Studio?
Infuse nature-inspired elements, serene colors, essential oils, calming music and gentle lighting.
3. How Should I Decorate a Room for Yoga?
Integrate plants, soft textures and a calming color palette. You can add personal touches like artwork and meaningful decor. Embrace scents and lighting to achieve a soothing yoga ambiance.