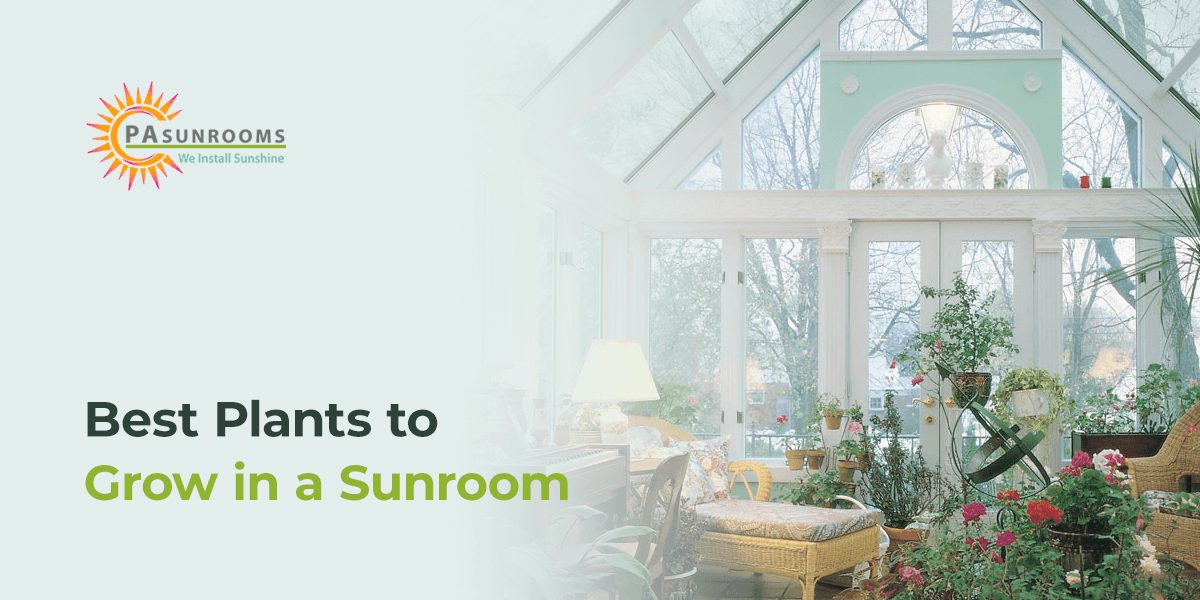 One of the joys of a sunroom is the sunshine available in the space year-round, which makes these spaces the perfect place to grow plants. If you have a green thumb, the sunny spots all over your sunroom offer sunshine for your herbs and flowers at any time of the day.
Plants for Sunrooms
The best plants for sunrooms are those that need lots of light since this room of your home is likely the one that sees the most direct light. Some of the best plants to grow in a sunroom include:
Citrus plants: Citrus plants flourish in bright light, making them an excellent choice for your sunroom. Varieties like limes, Meyer lemons, grapefruits and mandarins typically do best indoors.
Hibiscus: Hibiscus plants add vibrant color to your sunroom. They are ideal for growing in containers, preferring easy drainage and a tight fit.
Peace lily: Peace lilies are easy to care for indoors and can even help purify the air in your sunroom.
Passion flowers: Passion flowers add a pleasant fragrance and gorgeous color to your sunroom. Plant them in oversized pots and give them a good soaking once or twice a week to keep them looking their best.
Easter cactus: An Easter cactus makes a perfect low-maintenance addition to your sunroom. It does best in bright light and humidity.
Boston ferns: Boston ferns are the perfect lush green hanging plants for your sunroom. They grow best in humid environments, so keeping their soil damp is essential.
Orchids: Orchids thrive indoors with plenty of sunlight and humidity, making them an excellent choice for your sunroom.
Begonias: Begonias are low-maintenance flowers that do well in containers. With light shade, ample water and proper drainage, your begonias will bloom beautifully in your sunroom year-round.
Spider plants: Spider plants are one of the easiest plants to grow indoors. They are hardy, forgiving and may even sprout flowers if cared for properly. Ensure they get indirect light and enough drainage to flourish in your sunroom.
African violets: African violets add stunning purple color to your sunroom. They do well in indirect, indoor light and thrive in pots.
Christmas cactus: Christmas cactus is a popular winter-flowering houseplant. It produces beautiful pink-colored flowers and requires minimal maintenance.
If there are exotic plants you've always wanted to grow, but your usual windows do not give enough light, a sunroom is an ideal solution. Hanging plants also look wonderful in sunrooms, and the light near the top of the room allows enough sunshine for these plants to thrive.

Can You Grow Vegetables in a Sunroom?
Vegetables, fruits and herbs can flourish in a sunroom thanks to the sunshine and warmth. You can grow everything from tomatoes to peppers and lettuce and many other vegetables in your sunroom.
Look for vegetables that need lots of light and make sure you place your plant in a large-enough container to give it  room to grow. Water your plants regularly and use fertilizer as needed. There's no reason why you can't have a delicious indoor container food garden in your sunroom!
Sunroom Indoor Plant Ideas
If you decide to add some greenery to your sunroom, here are a few things to keep in mind:
Think aesthetically: Large, bold trees and shrubs can add symmetry to the room and help you create a beautiful look. Instead of placing pots everywhere, consider carefully where plants look best and add to the look of the room.
Go bold with containers: There are many beautiful containers, from classic terracotta pots to elegant pedestal planters made from marble and other beautiful materials. Play around with the style of pots to create a completely different look for your space.
Create a maintenance schedule: If you want a full indoor container garden, make sure you know when to water and add fertilizer. Plants in full sun may need more water and wiped down to prevent pests and keep them looking their best. As they grow quickly in full sunlight, some plants in your sunroom may also need to get re-potted more often than they do in the rest of your home.
Watch the environment: Plants need shade, sun, moisture, food and watering. Make sure your plants have good drainage and keep an eye on the hours of sunshine and moisture levels in the air.
4 Tips for Caring for Indoor Plants
Help your sunroom plants flourish by following a few essential care tips:
Water on an as-needed basis: All houseplants have slightly different watering needs. Generally speaking, you should keep them in well-drained soil and water them when the topmost ½ inch to 1 inch of soil feels dry.
Repot overgrown houseplants: If your indoor plant has stopped growing or dries out every few days, it may need repotting. Check the roots — if they are crowded or circling, you should repot the plant.
Clean your indoor plants: Deadheading flowers and removing dying leaves can promote more blooms and prevent disease. Dusting your indoor plants also improves their appearance and helps them soak up more light.
Fertilize houseplants periodically: Most houseplants have a growth spurt in spring and summer, so fertilizing them at these times can help maximize their growth. Follow any label instructions to determine how much plant food to use.
Contact PAsunrooms Today
Would you like a beautiful sunroom that offers extra space for a stunning indoor garden? Four Seasons Sunrooms with exclusive CONSERVAGLASS SELECT™ keeps your sunroom at controlled temperatures with the right sunlight for entertaining and gardening. To find out more, contact PAsunrooms to arrange an in-home consultation with our experienced team.