When you want to elevate your outside space to make it more functional, beautiful and enjoyable, the LifeRoom Louvered Roof System is the perfect solution. Louvered blades allow you to control your outdoor environment with the press of a button, so you can soak up the sun one moment and relax in the shade the next.
Pergola Meets Patio Cover
The LifeRoom Louvered Roof System offers flexibility, enabling you to enjoy various seasons and weather conditions comfortably. When used as a pergola, the system allows for sunlight and warm, natural breezes. The open-air structure provides ventilation, letting hot air rise to keep you cool.
The louvered blades can quickly be adjusted to function as a patio cover, offering shade throughout the day. The closed option will shield your outdoor furniture from weather damage while also shading you from solar heat.
Our louvered patio covers will also provide waterproof protection against rain, quietly closing and ensuring a tight seal. A slight pitch will drain water through an internal gutter system and downspout, so you can rest assured your louvered roof system can manage the storm and keep you dry.
The LifeRoom Louvered Roof System can attach to existing structures and roofs, extending your living areas and enabling you to enjoy them throughout the year. The roof system can also stand on its own to give you the flexibility and accessibility you need in your outdoor space.
Sunshine at the Push of a Button
The LifeRoom Louvered Roof is powered by a small motor with a rechargeable 12-volt battery. It maintains charge through a solar panel, increasing convenience for you by eliminating the need for wiring into your home.
The motor rotates each louver blade over a 140-degree range of motion, allowing you to choose the exact amount of light or shade you prefer with the push of a button or flick of a switch. This reliable opening and closing mechanism will enable you to enjoy any season and weather.
Several Styles to Choose From
Whatever your personal preferences or property's aesthetics, you are sure to find a color combination that suits your needs. Our frames and blades come in several colors, allowing you to mix and match or maintain uniformity.
Frame colors include:
Blade colors include:
Built With High-Quality Materials
All frame parts and louver blades are constructed with structural-grade aluminum, making them rust- and rot-resistant. Whatever climate or environment you live in, a LifeRoom Louvered Roof will provide the durable, long-lasting use you need to enjoy your outdoor space throughout various seasons and weather conditions. All fasteners are manufactured out of stainless steel to resist rust and rot, as well, so you can rely on the durability of every aspect of your system.
Our frame parts and blades also possess a UV-resistant powder-coated finish, offering extra durability and attractiveness. With concealed brackets, seamless fixing points, an internal gutter system and a simple solar panel, the innovative LifeRoom Louvered Roof is a beautiful and low-maintenance option for your property.
Designed for Both Residential and Commercial Spaces
Whether you want to improve the beauty and usability of your backyard or increase the appeal and comfort of your commercial area, a LifeRoom Louvered Roof System will help you fulfill your goals. This product will enhance residential places such as:
Decks
Hot tubs
Outdoor kitchens
BBQ areas
Carports
Patios
You can also use a louvered pergola to increase the functionality and attractiveness of many outdoor commercial areas, such as:
Courtyards
Entryways
Outdoor eating spaces
Swimming pools and spas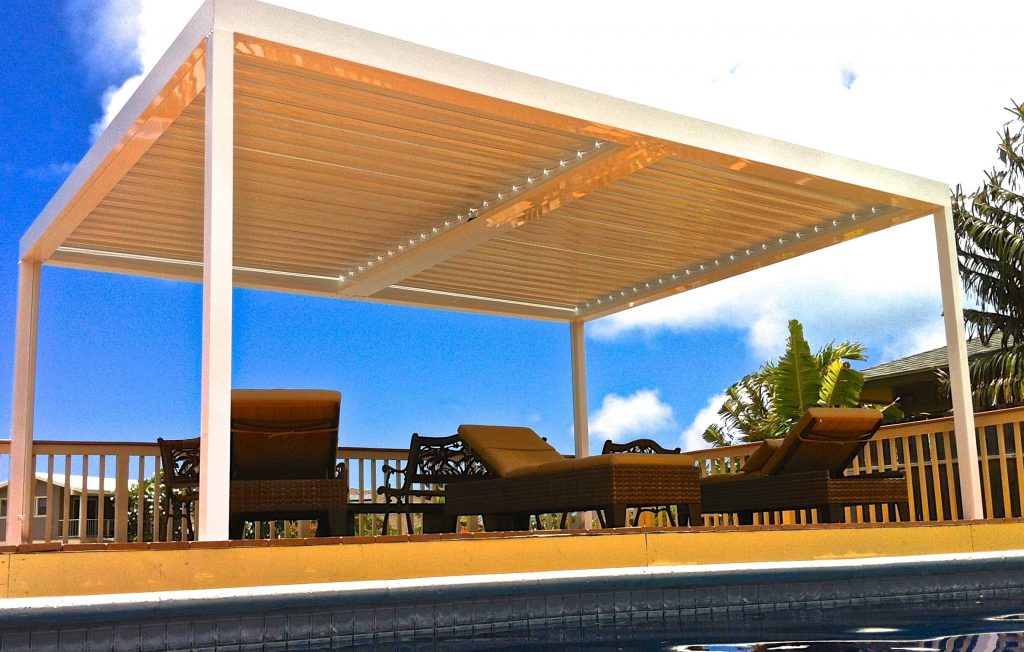 Schedule a Consultation for a LifeRoom Louvered Roof Today
Improve the functionality and aesthetics of your outdoor space with an installation from PAsunrooms. Schedule a free estimate for a LifeRoom Louvered Roof System, call us at 717-564-2244 for more information, or visit one of our showrooms in-person for inspiration!