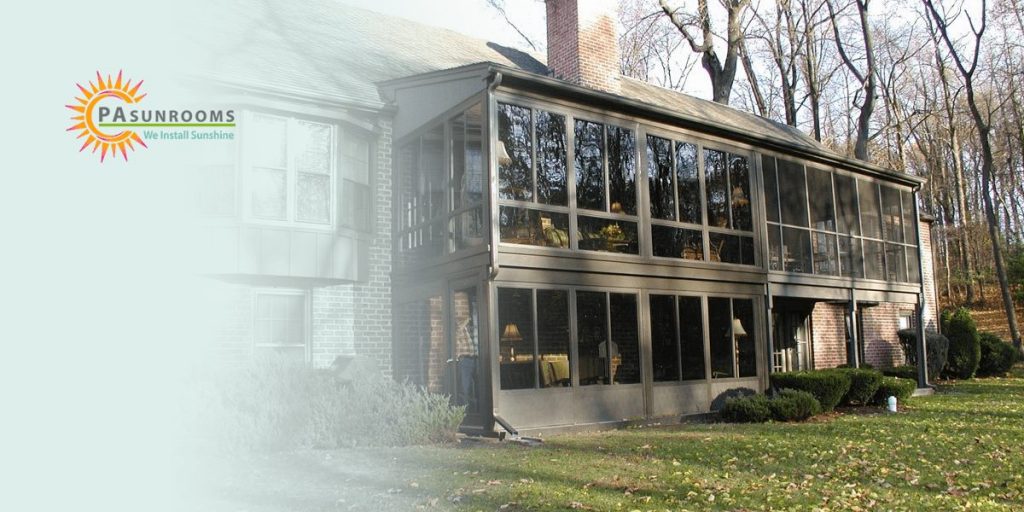 Your ideal sunroom is a haven for relaxation and entertainment that is complete with the warmth and comfort of a fireplace. If you're considering adding this final touch but don't know if you can put a fireplace in a sunroom, we have great news for you — it's both possible and a great idea! Before you run out to select that fireplace insert and start implementing your dream space, though, you should keep a few things in mind.
Gas vs. Wood Fireplaces in Sunrooms
When deciding whether to install a fireplace in your sunroom, you have many factors to consider. One of the most important is what type of fireplace you want to install. Each fireplace type has its own pros and cons, so let's look at the differences between gas and wood fireplaces in sunrooms.
Structure
Fireplaces are a classic way to warm your home and make your sunroom feel like an intimate retreat. However, the structure of your sunroom can influence what type of fireplace you can install.
Wood-Burning Fireplace Considerations
Glass roof solariums and conservatory-style sunrooms can be custom designed by PAsunrooms to sustain chimneys. However, if your sunroom's roof consists of a solid material such as tile or metal, you can invest in an indoor wood-burning fireplace easily.
Gas Fireplace Considerations
Gas fireplaces are an excellent option for any sunroom, as they require no chimney. Designed as straightforward or as elaborate as you like, these fireplaces can go wherever you want, whether on the wall or with a shelf mantel. Also, they produce clean and efficient heat.
Heating
When it comes to extending the functionality of your sunroom with fireplace heat, your two main options, wood burning and gas, both have pros and cons.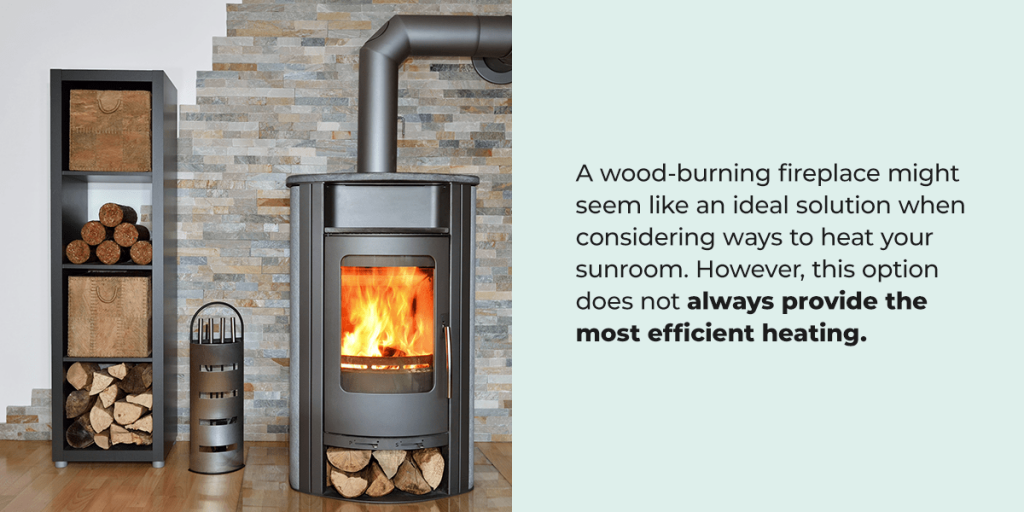 Heating a Sunroom With a Wood-Burning Fireplace
A wood-burning fireplace might seem like an ideal solution when considering ways to heat your sunroom. However, this option does not always provide the most efficient heating. With these fireplaces, some of the generated warmth travels up through the chimney and dissipates into the outside air instead of remaining in your sunroom.
To combat this problem, many choose to invest in circulating fans to distribute heat more efficiently throughout the space. Others are okay with compensating for the temperature loss with additional firewood. Another option would be to use a pellet stove which is much more energy efficient than a traditional wood burning fireplace.
Heating a Sunroom With a Gas Fireplace
On the other hand, gas fireplaces have no odor and can operate without outside vents or chimneys. They are also more efficient at burning heat than their wood-burning counterparts. However, depending on the cost of fuel, you may pay more to keep your sunroom warm during chilly nights with this option than if you used an open flame source.
Aesthetics
An elegant sunroom fireplace makes a beautiful ambient addition to any home. With a wood-burning fireplace in your sunroom, you'll relish the unparalleled joys of comforting campfire smells and crackling wood sounds. While the gas fireplace counterpart can't offer that same experience, you can still enjoy the sight of soft flickering flames and the feeling of the warmth it emits.
Contact Your Local Sunroom Specialists at PAsunrooms
When you install a gorgeous new sunroom, you'll add space to your property, increase its value and bring light into your life. You can choose between a beautiful array of sunroom fireplace arrangements to make your new indoor space even more inviting.
Our goal at PAsunrooms is to help you create the perfect sunroom for your home. We take pride in our craft and know how to transform any space into a dreamy oasis. We'll work with you to create a design that fits your needs and complements everything from contemporary to traditional styles.
Contact us today for a free in-home design consultation, call 717-564-2244, or visit one of our in-person design centers to learn more!