Tap to Call: 717-564-2244 Questions? Contact Us
The Benefits of Adding a Sunroom
Have you been thinking about home improvement lately? If the itch to improve part of your home has struck, it might be time to take advantage of this urge and make some improvements or additions to some aspect of your home. While you can choose from plenty of potential improvements, we think the benefits of adding a sunroom — or using your burst of home improvement creativity as a reason to enclose your deck and create a sunroom — make this particular project well worth your time, effort and consideration.
Sunrooms are a wonderful addition to any home, and they can be enjoyed by anyone. They offer a whole host of benefits that you, your family and guests can enjoy.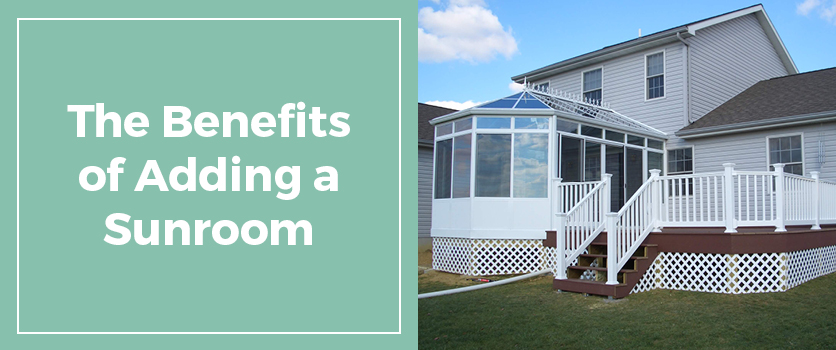 Because we believe in the enormous benefits of sunroom additions, we've compiled this guide for you. We'll talk about the many reasons to install a sunroom addition and the many ways this home improvement project can vastly improve your life. If you're currently going back and forth between adding a sunroom or not, by the time you're finished learning about all the advantages of adding a sunroom, we're confident you'll consider adding one to your home.
The Benefits of Installing a Sunroom
Just the idea of relaxing in a sunny and warm indoor space sounds great — and it's one of our favorite reasons to install a sunroom in your home. Here are a few more of the advantages of adding a sunroom:
1. Enjoy a Higher Real Estate Value
Do sunrooms add value to a home? Yes!  This is a benefit of adding any new square footage to your house, and it makes sense. A bigger house will command a higher real estate value and boost your curb appeal. A sunroom, in particular, can often cause your home's value to shoot up even more significantly when selling your home.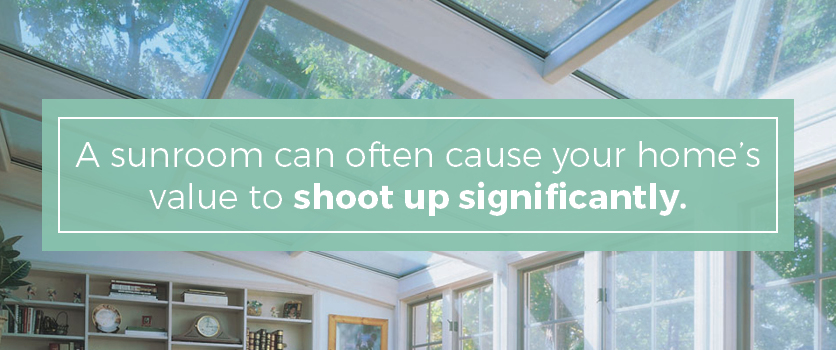 When thinking about value and price and if sunrooms are worth it, it's important to consider the size of the investment you'll make to install the sunroom, as well as the benefit you'll reap afterward. This cost/benefit analysis is known as the ROI, or the return on your investment.
If you're wondering if it is beneficial to add a sunroom, just look at the numbers. Get a quote on how much real estate value a finished sunroom would add to your house. While every situation is unique, the odds are good that the return on investment sunrooms provide will make it worth your while.
Put simply, most home buyers will gladly pay a little extra for a home that features a functional sunroom, particularly if it faces a beautiful and lush backyard or some other equally scenic view. This extra real estate value will typically outweigh the cost of adding the sunroom in the first place, making the home addition both a lifestyle and monetary gain for you.
2. Potentially Reduce Your Electric Bill
Nobody likes paying utilities like the electricity bill, but unfortunately, there's no real way to avoid them. You need light to see, and that means electricity, right?
Well, not always. With a sunroom, you're effectively giving yourself an entire room that will be flooded with sunlight for hours on end. Even on cloudy days, this room will be bright enough to see clearly. Utilizing your sunroom as a personal or family-driven space for indoor activities means you can reduce your use of artificial lights significantly.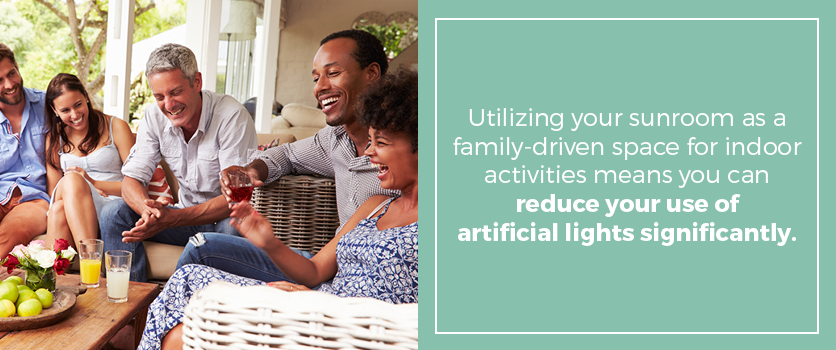 Depending on how much time you spend in your sunroom, it can cut your electricity bill — another way adding a sunroom can provide a very tangible monetary benefit.
Tap to Call Now | 717-564-2244
3. Bask in the Natural Sunlight
You know those days when the sun comes in through the living room windows, and you just want to keep moving your chair across the room so it stays in the small patch of sunlight moving across the room? With a sunroom, you'll be able to revel in sunlight no matter where you sit.
This means you'll not only get to enjoy the gentle natural light from the sun, but you'll also get to enjoy its warmth — making a sunroom the perfect place to relax with a book, a cup of tea or morning coffee and paper. There are so many benefits of natural sunlight in your home, both for your health and happiness.
4. Stretch Out in an Extra Space
Feeling like your house is getting a little crowded, whether from a growing number of people or a growing number of belongings? This is the perfect time to add a sunroom to your house — an addition to the house will give you extra room to spread out.
While any additional room or rooms would serve the purpose of making your house larger and giving you extra room, a sunroom provides the extra benefit of acting as a separate getaway space. While an extra bedroom or family room will also feel like an extension of the house, a sunroom has the potential to look and feel like a separate sanctuary. Maybe this can even be a private space — except when your friends, kids and grandkids visit to keep you company.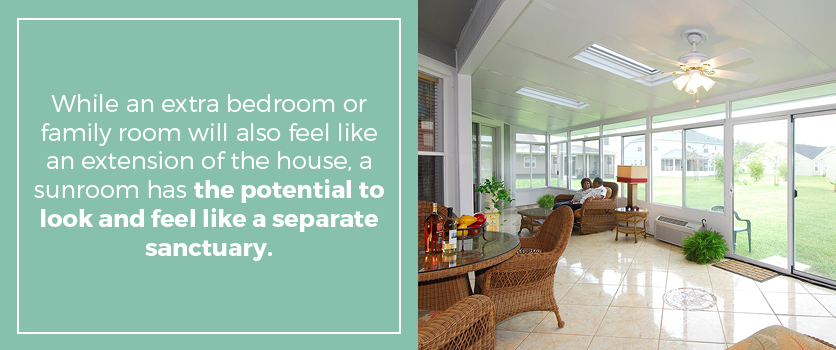 If you're going through the process of adding on an additional room to your house, why not make it something extra special? Why not make it the perfect place to relax? Why not make it a space that could help you save money in the long run? A sunroom meets all these qualifications.
5. Use the Extra Space for Hobbies
Do you enjoy crafting? Scrapbooking? Reading? Writing? Bird-watching? Whatever your hobby, a sunroom is the perfect place to use as a home base for this practice. You can transition your sunroom into any useful space you desire.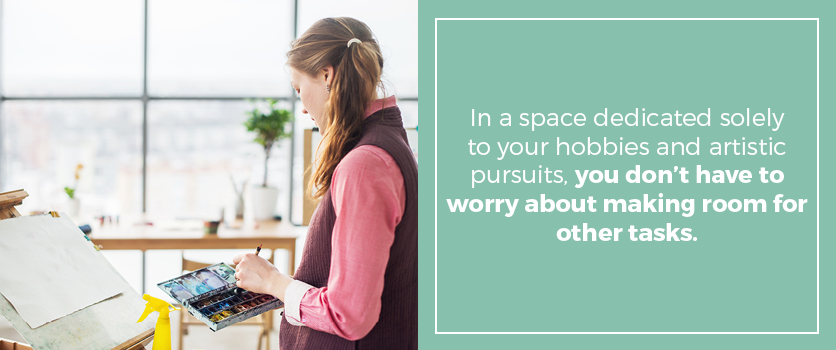 In a space dedicated solely — or almost solely — to your hobbies and artistic pursuits, you don't have to worry about making room for other tasks. What better place to use as a hobby room than a sunroom?
6. Enjoy the Added Luxury
If you're like most of us, you've spent a good portion of your life denying yourself the things you really want in order to focus on the things you really need. Maybe you really wanted to go on a vacation to Europe, but couldn't because you needed to pay for a family member's medical treatment. Or maybe you wanted to treat yourself to that brand-new car, but didn't because you knew that money needed to be saved for a college fund.
A sunroom is a great opportunity to indulge in your desires for once and allow yourself a little luxury. This is a safe and completely indoor space where you can enjoy the full force of the natural sunlight all year round. Best of all, this is a luxury that can serve as a real estate investment and a happiness investment that will only keep giving.
7. Create the Perfect Space for Your Plants
Are you a plant enthusiast? Then we've got good news for you. Did you know a sunroom makes the perfect place for your plants to live and soak up the natural sunlight?
While a sunroom isn't quite the same as a greenhouse, it's often the next best thing. Here, your plants can have access to all the sun they can handle, even in the winter. The glass walls and ceiling of a sunroom work to trap the heat and can create a warm, balmy atmosphere your plants will absolutely love. If you could never have plants before because your home didn't get enough natural sunlight, your love of plants offers you another reason to install a sunroom.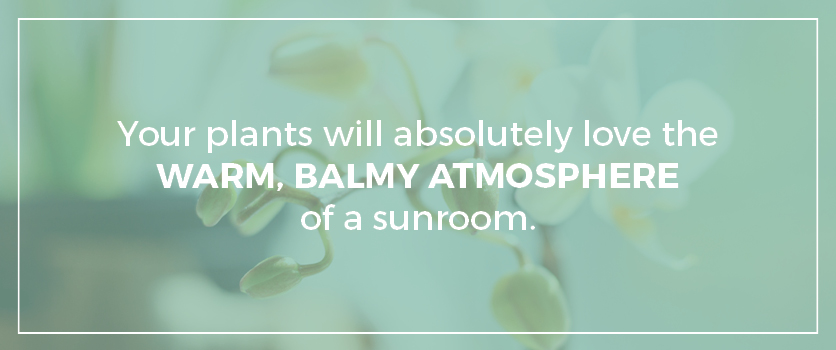 There are so many benefits to having plants around. First, they're known to help improve air quality, making you and your family healthier for having them around. They're also known to reduce your stress levels and create an overall increased feeling of well-being. Besides these benefits, they're beautiful to look at and can easily raise your spirits on days you're feeling down.
8. Boost Your Mood
Did you know that roughly 350 million people worldwide suffer from depression? This is an incredibly common health concern, and there's nothing to be ashamed of if you, too, find yourself struggling with the symptoms on occasion. Seasonal Affective Disorder — commonly abbreviated as SAD — is a particular type of depression where your mood is affected by sunlight. If you suffer from SAD, this means that you're more likely to feel depressed in the winter when sunlight is less readily accessible.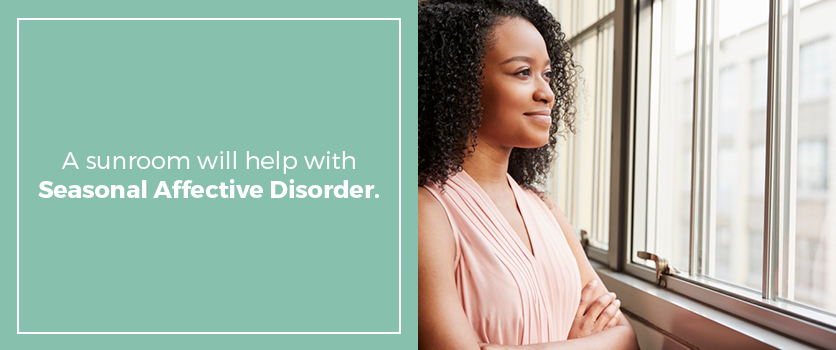 The good news is that a sunroom will help with Seasonal Affective Disorder. No matter how cold it gets outside and how hard it can be to soak up your Vitamin D outdoors, you'll have all the sunlight you need right within the comfort of your own home.
While no one or nothing can truly claim to cure depression, adding a sunroom had been known to do wonders. By exposing yourself to sunlight every day, no matter the season, you can work towards healing your mindset and spirits, and boosting your mood.
9. Experience a Whole Host of Health Benefits 
There are plenty of health benefits that can come with a sunroom addition. By adding a sunroom, you'll increase your regular exposure to sunlight, which can do wonders for your health. Here are just a few of the health benefits you can expect to enjoy by spending lots of time in your sunroom addition.
Lower Cholesterol: In some cases, exposure to sunlight has been shown to help reduce high cholesterol.
Lower Blood Pressure: Even minimal exposure can do wonders for your blood pressure, lowering it to much more manageable and less dangerous levels.
Stronger Immune System: Under the warm rays of the sun, your white blood cells actually increase, giving your immune system a healthy boost.
Vitamin D Boosts: This essential vitamin plays a major role in keeping you healthy and plays a role in everything from maintaining strong and healthy bones to supporting your cardiovascular health.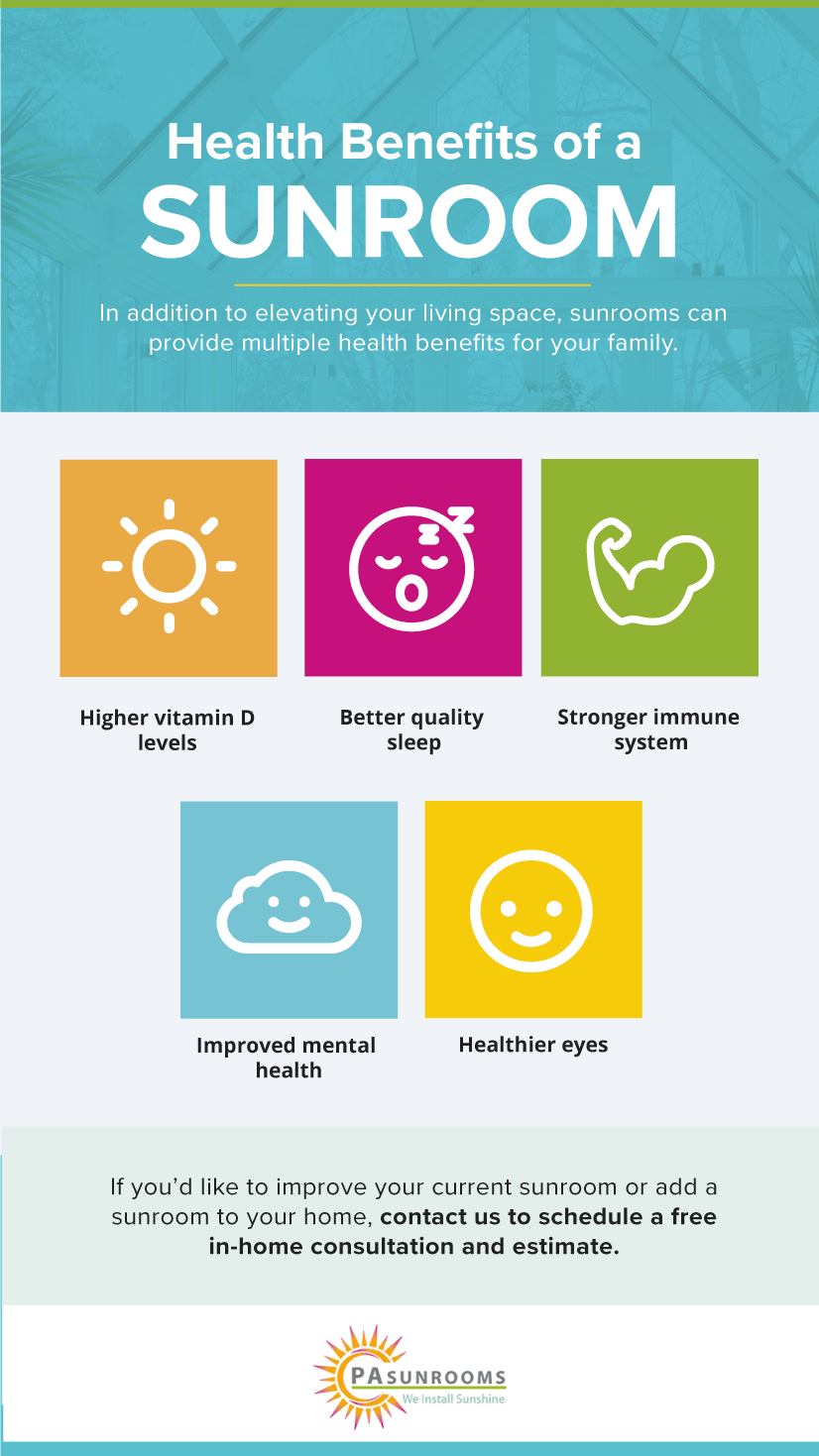 10. Enjoy a Great Entertaining Space 
Do you frequently enjoy entertaining large parties of friends and families? If so, why not add a sunroom to entertain? There's no better place to host a gathering than this warm and sunny space. Your guests will love to spend time here while you entertain them in style.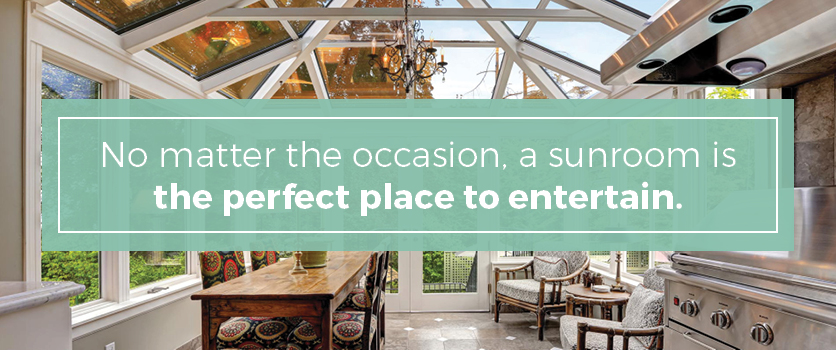 Are you hosting a casual brunch? A book club meeting? An evening of cocktails? No matter the occasion, a sunroom is the perfect place to entertain. After all, when you have such a beautiful space, you'll have the opportunity to share it with your closest friends, loved ones and relatives.
11. Use It as a Playroom for the Kids 
Do you have young children, or perhaps young grandchildren? If so, a sunroom might make the perfect play area for them. Let them keep their toys in there and use it as a space where they can spread out, make messes and have fun.
This is good for you because it keeps their messes contained to this one single room. Instead of scattering their toys all over the house, they have this one spot that they can use to play to their hearts' content. Best of all, they can also experience the many health benefits of sunshine — all while remaining safely indoors.
12. Create a Bright and Sunny Office Space 
Working from home can be a challenge for many reasons, but one of its most challenging aspects is finding the best spot to work. You want to remove yourself from distractions while also finding a place that maximizes your productivity. Most importantly, you don't want to work in a place like your bedroom or the kitchen, where your brain will think it's still in "home mode," and not want to get into "work mode."
The perfect solution is to use your sunroom as a home office. This room is naturally distinct from the rest of the house, meaning you should be able to work here without being disturbed or interrupted by other members of the family that might also be home. In addition to this, you won't find yourself distracted by doing work in your ordinary living spaces. Instead, you can set this apart as a space where you only come to do work.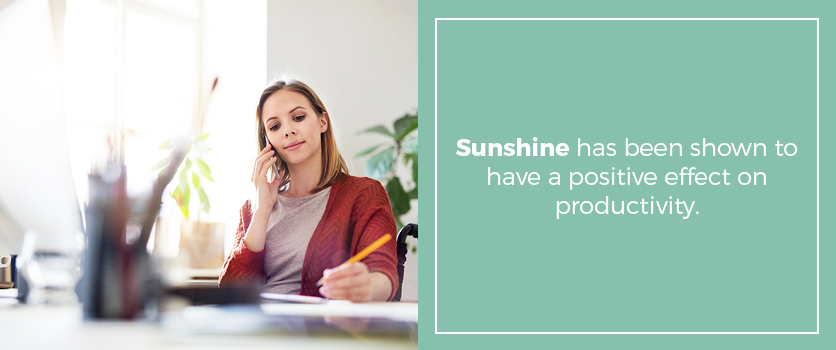 In addition, sunshine has been shown to have a positive effect on productivity, as well as all the other effects of mental health we've discussed. This means that when you choose to make a sunroom your home office, it's an office that will make you happier, healthier and more productive overall.
13. Make a Sunroom Your Yoga Central 
If you enjoy yoga, stretching or any other type of calming physical activity, there's no better place to meditate than a sunroom. Bathing in the sunlight while stretching and strengthening will only increase your health, happiness and calmness.
Sunlight is a wonderful relaxer, and you'll be surrounded by nature through the windows of your sunroom. You might even keep plants inside the sunroom itself, since those are beneficial too. With the combination of greenery and sunlight, you couldn't choose a better spot to relax and improve your physical fitness.
Best of all? You'll be less likely to be interrupted in the middle of your fitness routine when you practice it in your sunroom than you would be if you chose to exercise in the living room, or somewhere else central to the main hub of traffic in your house.
Get Started Building Your Sunroom Addition Today
Based on all these reasons to add a sunroom to your home, you can see why so many people choose to invest in this beautiful, beneficial home addition. Sunrooms increase your health and happiness, can be used in a variety of different functions, and have the potential to both earn you more money and save you money along the way. If you're as convinced as we are, it's time to start planning your very own sunroom addition today.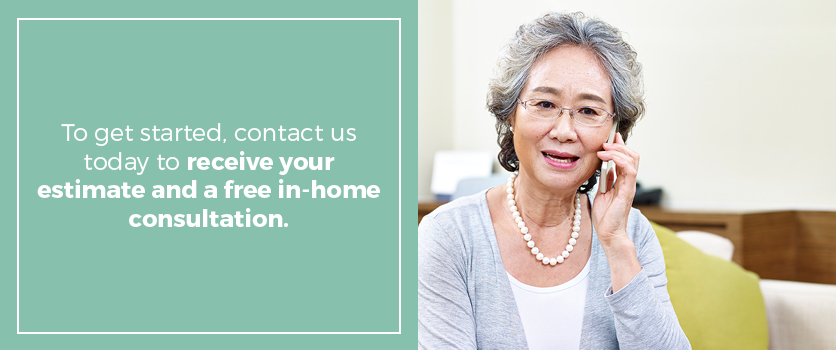 Not quite sure where to get started in order to add a sunroom to your home or looking for design ideas? Here at PAsunrooms, we have all the experience and knowledge you'll need to make the sunroom you've been dreaming of. We sell a wide range of sunrooms, featuring models of every different size, shape and function imaginable — plus, we offer sunrooms to fit every budget.
With over 30 years of experience in the sunroom industry, there's nobody better to help you navigate the process of adding a sunroom to your house in or around Central PA.
To get started, contact us today to schedule your free in-home consultation and estimate.
Tap to Call Now | 717-564-2244 Schedule a free consultation