If you've been thinking about creating a home workout room, one potential space you may have overlooked is your sunroom. Most sunrooms are quite spacious and are specifically designed to let in as much sunlight as possible. This makes them an ideal space for enjoying a relaxing yoga session or high-intensity cardio workout.
Benefits of Having a Home Gym in Your Sunroom
Whether you regularly work out at the gym or are interested in getting started, you'll experience several benefits from having an at-home gym. You'll:
Save money: Gym memberships can be expensive, especially if you pay for multiple family members. Instead of paying a monthly fee, you could be investing in gym equipment.
Have more motivation: When you have all your gear and equipment conveniently located in your home, you might find that you are more motivated to consistently work out. You won't have to deal with the gym's hours or go out in inclement weather. Instead, you can exercise whenever works best for you.
Minimize travel time: Depending on where your gym is located, driving there may add extra commute time to your daily schedule. Instead of traveling to and from the gym every day — and potentially dealing with traffic — you can exercise at home.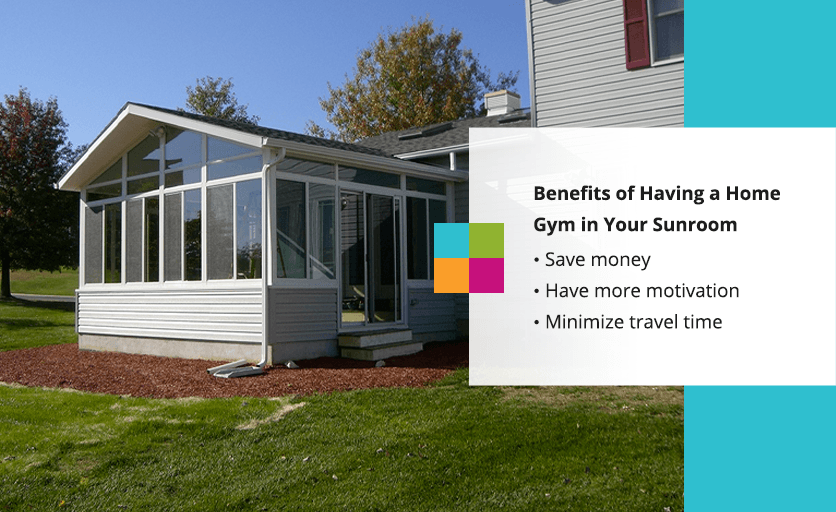 Home Gym Equipment Ideas
Converting your sunroom into a gym means you'll have plenty of space for your equipment. Need some inspiration? Here are a few equipment options to include in your sunroom gym:
Exercise balls
Yoga mat
Stepper
Dumbbells
Kettlebells
Jump rope
Resistance bands
Cardio equipment such as a treadmill, rowing machine, stationary bike or elliptical
Muscle-building equipment like a squat rack, bench, shoulder press machine or pull-up bar
Towels
Turning Your Sunroom Into a Gym
A few elements you can add to turn your sunroom into a gym include:
Rubber flooring mats: These mats offer a supportive solution and keep you comfortable, especially if you do a lot of yoga, pilates or high-intensity interval training workouts that involve lying on the ground.
Storage: Be sure to add storage to keep your at-home gym organized. You can use shelving to store your weights neatly and tuck away items like your gym mat or resistance bands in a decorative basket.
Speaker system: Listening to music can help you stay energized and motivated when working out. Adding a speaker system to your sunroom home gym will let you listen to your favorite tunes while staying fit and healthy.
Request a Free Consultation
Ready to start working out in the comfort of your home? At PAsunrooms, we'll work with you to produce a sunroom that fits your style, budget and home architecture.
Interested in learning more? Schedule a free in-home consultation today and view our service areas.