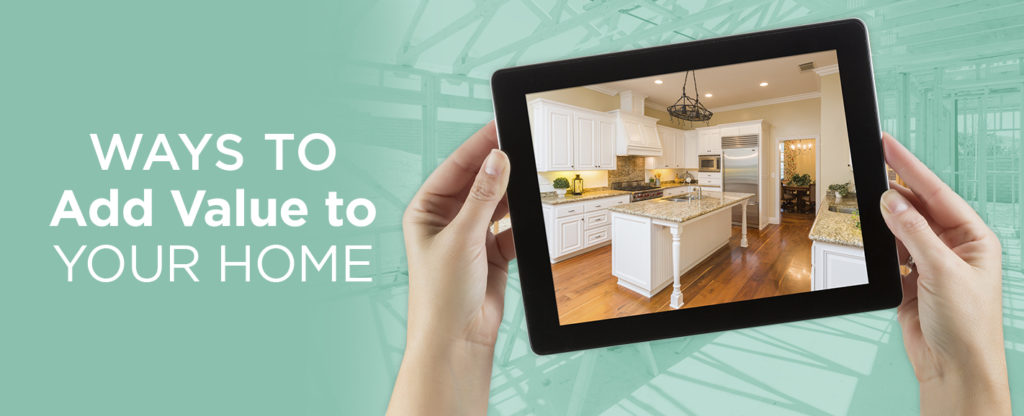 If you're in the 58 percent of homeowners who will undertake a home improvement project this year, you've likely been wondering what home improvements bring the most value to your property. It's fun to make updates and improvements to your own home, and it's a smart investment too.
The truth is, most homeowners have to pace themselves and take on a project or two at a time. They have to budget their money wisely so they can make home improvements to enjoy in the short-term and to benefit them financially in the long term.
If you're wondering how to increase home value, the answer may not be quite what you think.
Best Home Improvements to Increase Value
You want to be strategic when considering ways to increase home value. What things add value to your home? A good rule of thumb is to select projects that will make your home more enjoyable for your family, as well, as offer a high return on investment when it comes time to sell your house.
1. Paint
Painting is often left off lists of suggestions for home improvement ideas that increase home value because painting any room any color won't immediately add value to your home. In fact, you can turn potential buyers away with bright or unusual color choices. However, if you're strategic about it, painting can make a big difference on your bottom line.
Fresh paint makes any room look clean and fresh, giving the appearance of updating without making any significant changes. Choosing attractive yet neutral paint colors for both the interior and exterior of your home goes far in increasing your home's beauty and making it more appealing — a bonus if you're looking to sell your house for top dollar.
While painting is one way to boost home value, it's only going to bring a significant return if you do most of the work yourself. To keep costs down, do the job yourself and use the money you saved for other home improvement projects.
2. Update Your Landscaping
"Curb appeal" is a big buzz word in real estate these days. A phrase used to describe the way your home's exterior looks, curb appeal has become a great way to boost home value. For a home to have good curb appeal, it has to have a beautiful yard. If the exterior seems well-kept, buyers will be all the more interested in seeing what's inside.
Don't have a green thumb? Don't panic. Curb appeal doesn't mean your yard needs to win first prize at a garden show. But it does mean that you should spend some time and money making sure your yard is neat and tidy. Investing in a few new bushes and flowers can completely transform your home's exterior look. If your yard is already full of plants, consider trimming them and thinning them out so that they can flourish.
When you're choosing new greenery for your yard, make sure to pick plants that thrive in your region, and don't require a lot of work and water. This will save money on watering and maintenance costs, as well as be more appealing to potential buyers who want a beautiful yard but don't want to spend a lot of time working on it.
Even if you don't think you need to add to your yard's landscape, take some time to clean everything up. Trim bushes and trees, add mulch around flower beds, clean up any debris in the yard and always make sure to mow. Keeping a simple landscape healthy and neat tells potential buyers that you've taken good care of your home.
3. Add a Sunroom
You can add value to your home with a sunroom addition. But how exactly does a sunroom add value to your home? A sunroom is a great way to extend your home's living space, and it also brings more natural light into your home. Adding square footage to your home — or making better use of existing space — is a great way to boost your home's value. A sunroom is a particularly good choice if you're looking to add living space to your home. It brings in a lot of natural light and essentially allows you to bring nature inside without fighting bugs or extreme temperatures. Some people use their sunrooms for an additional living room. However, these rooms also make a great playroom, bedroom or office.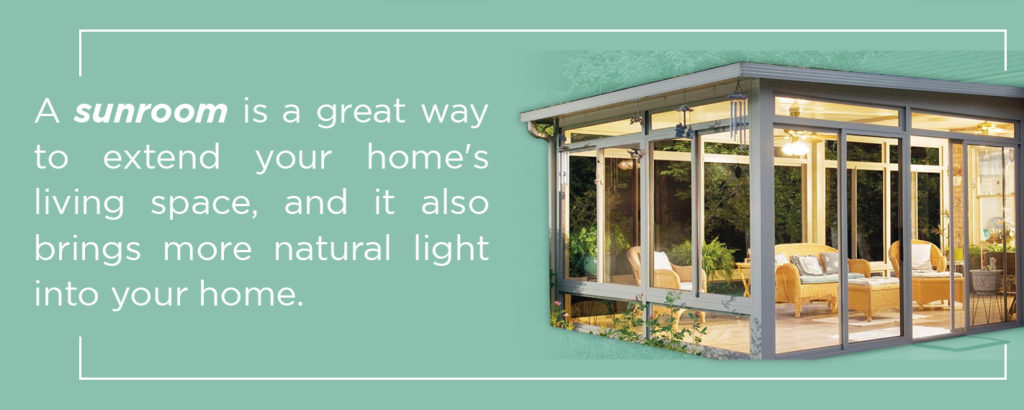 Sunrooms come in different varieties, so you can select the one that fits your needs and your budget. One of the most popular kinds of sunrooms is the "three seasons room," which is a specific type of sunroom not fitted with heating and cooling. A three seasons room adds value to your home because it can still be used during most of the year since it blocks rain, wind and cooler temperatures.
So, how much value does a sunroom add? While a three seasons room cannot be included in your home's square footage because it does not have a heating or cooling system, most people who have one are quick to point out that it has dramatically improved their quality of daily life and satisfaction in their home. It's also an appealing feature to potential buyers who want to enjoy the natural light and view of the outdoors.
4. Install Energy-Efficient Fixtures
There are several energy efficient upgrades you can make to increase your home's overall efficiency. In some cases, you may need to improve what you already have, rather than replacing it with something new. This includes updating weatherstripping around doors and windows and repairing cracks and crevices that may be allowing air to leak into your home.
While it's not technically a home improvement, another great way to improve efficiency is simply to change your family's habits. Water heating accounts for 12 percent of your utility costs. To lower costs and improve efficiency, consider making changes such as reducing the temperature on your water heater.
If you aren't sure what your home needs, consider hiring an energy auditor to come out and advise you on how to improve your home's efficiency.
5. Replace Carpet
When carpet is stained and worn, it quickly becomes an eyesore. Whether you're getting ready to sell your home or just looking for ways to freshen up your view every day, one of the easiest ways to do this is to get rid of old carpets and area rugs. Prospective buyers will be turned off from your home if it looks like they'll have to drop a lot of money up front for new flooring. So beat them to it.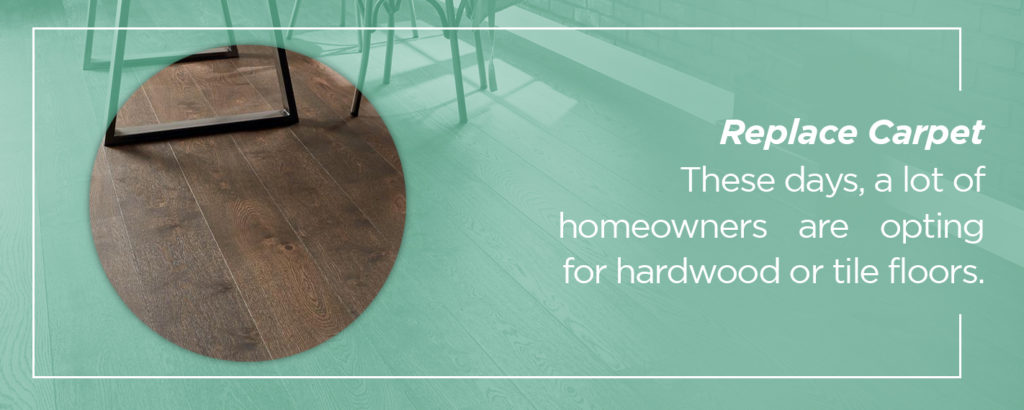 These days, a lot of homeowners are opting for hardwood or tile floors. They are easier to keep clean, they are hypoallergenic, and they add a lot of beauty to any home. But hardwood flooring does cost more than carpeting, so consider your budget before deciding to replace floors in every room of your house. In some cases, it's smart to incorporate hardwood into some spaces of your home and then simply replace the carpet in others.
6. Take Care of What You Have
There's no point in upgrading your home if you aren't consistently taking care of what's already there. Staying on top of small repairs makes a huge difference down the road. Why? Because small things add up. If you aren't repairing problems when they first arise, then more problems follow it and, over time, give the impression that your home has been neglected.
Yes, you're busy. Finding the time can be hard. But, even designating one hour a week or a couple of hours a month to tackling minor home repair projects can have a huge payoff down the road.
If you aren't particularly handy, consider hiring a handyman to knock out your repair list in a day or two. Considering that maintenance is protecting your investment from further damage, it's money well spent.
7. Clean Your House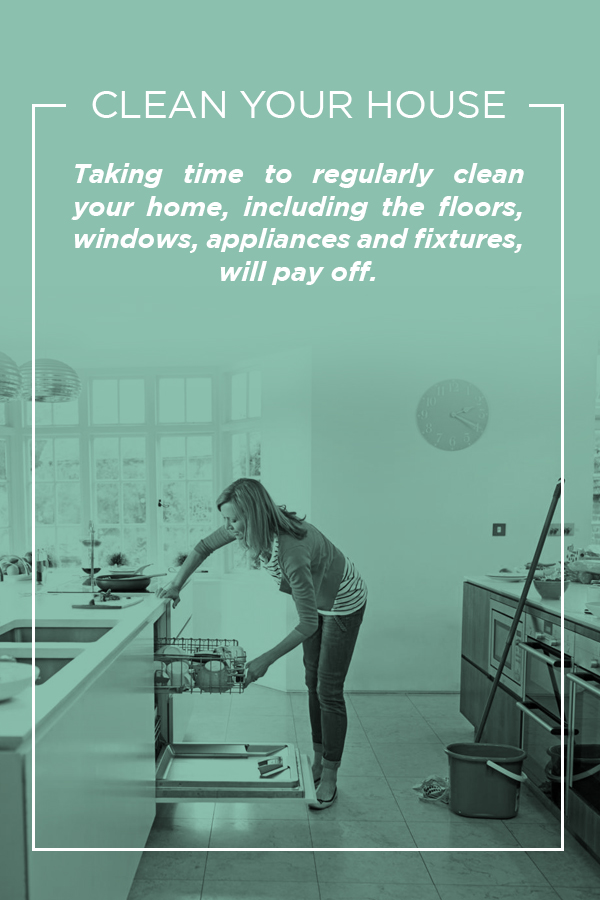 While we're on the subject, let's talk about the importance of keeping your home's interior and exterior clean. A clean home is simply more valuable in a sale than a dirty house. Taking time to regularly clean your home, including the floors, windows, appliances and fixtures, will pay off. Although it's not necessary to clean the walls and baseboard weekly, it's still important to keep them free of dirt and grime.
While you're at it, don't forget the exterior of your home. Real estate agents swear by having your home's exterior washed before a sale. In fact, having your home's exterior power washed can make such a visual difference that, in some cases, homeowners have discovered that they don't need to paint once all the dirt is gone. If you don't have the budget to hire a power washing company, consider renting a power washer and doing it yourself. Or, if that's not an option either, tackle the outside of your house with a brush and soap. Even scrubbing by hand can have a dramatic impact on your home's visual appeal.
8. Fix up Your Front Door
Your front door is a huge factor in your home's overall curb appeal. A beautiful front door can make a big difference when you are trying to sell your home. Why? Because a front door serves as the transition point between the exterior and interior of your home. It draws people to your home. If your door is old or not in keeping with your home's architectural design, then it's a good idea to invest in a new one.
Besides looking good, it's important that your home's front door be energy efficient. This means it should close and seal properly, without leaks or cracks that could allow heat or air condition to escape from your home. If you aren't going to replace your door, spend some time fixing up the one you have. Check — and replace if needed — the weatherstripping around the door. Make sure there are no cracks or warping that might be preventing the door from closing and sealing correctly. You can even add a splash of color by painting your door.
Let PAsunrooms Transform Your Home
When it comes to the best home improvements to increase value, it can be tough to know where to start. Sometimes a little bit goes a long way. Other times, your home needs a transformation. Installing a sunroom onto your home isn't just adding extra space — it's changing the way your family lives.
PAsunrooms is proud to be Central Pennsylvania's Four Seasons Sunroom Dealer. Four Seasons Sunrooms is a leading manufacturer of outdoor living solutions, including sunrooms, three seasons rooms, solariums and more. As Central Pennsylvania's only Four Seasons Sunrooms dealer, PAsunrooms offers a wide variety of styles and options to fit all tastes and budgets.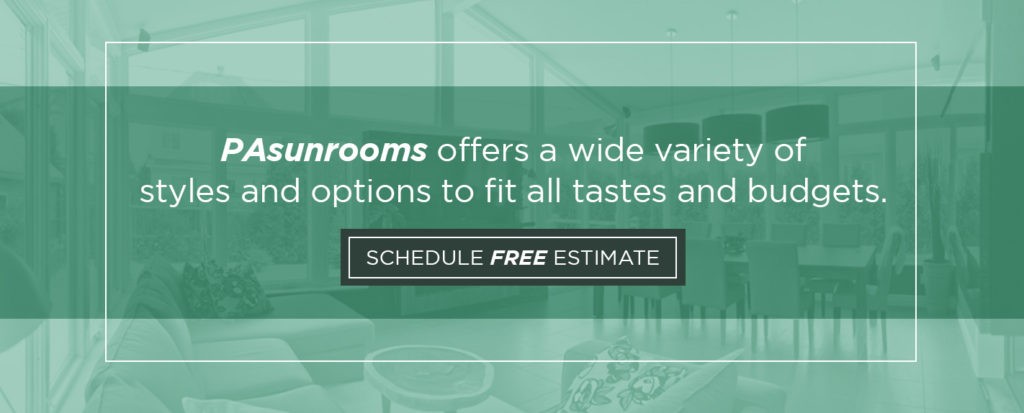 Serving Lebanon, York, Carlisle and Lancaster since 1987, PAsunrooms provides each client with our firsthand knowledge of the area and its homes. Our experienced team is prepared to help you select the best option to bring the outdoors into your home.
Contact us today to start making your home improvement ideas a reality.