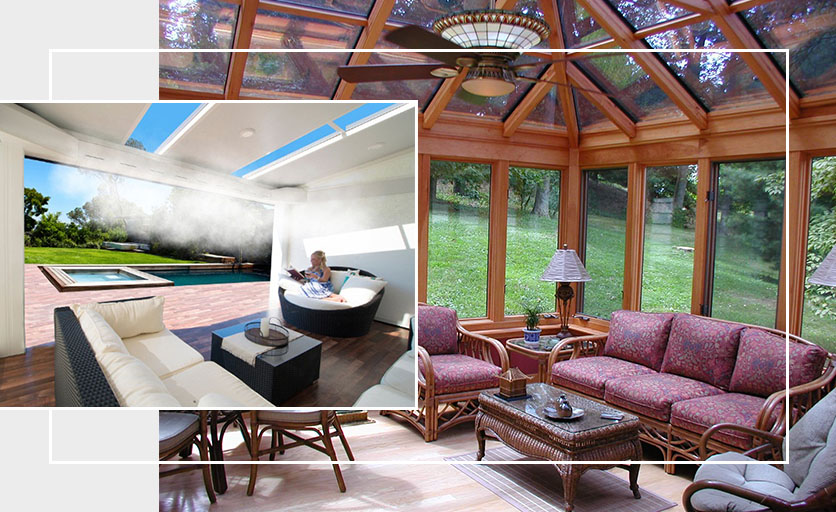 You've likely heard of a sunroom — those gorgeous, indoor-outdoor spaces with windows on all sides, found in the most coveted homes. Liferooms take this concept up a notch, providing additional technology and customization options.
If you're considering adding on some space to your home, you're probably wondering about the specific differences that set sunrooms and liferooms apart. While both offer many benefits, there are some key distinctions to consider before you build.
Here's everything you need to know about the difference between sunrooms and liferooms so you can make the best decision for your home.
What Is a Sunroom?
Sunrooms make for beautiful additions to any type of home. Sometimes referred to as patio rooms, sun porches, solariums, conservatories or garden rooms, sunrooms are enclosed spaces that blend the benefits of the indoors and outdoors and create extra living space in a home.
These rooms are available in many varieties and can be customized to your needs. Typically, a sunroom features windows on at least three sides of the room to maximize sunlight and views. They may have screens or glass windows and doors that provide entry to the house and yard.
Some sunrooms are considered "three season," meaning they're designed for use in the mild weather of spring, summer and fall. In comparison, a "four-season" porch may have insulation, heating and air conditioning, so you can use it in any type of weather year-round.
Benefits of Sunrooms
Adding a sunroom to your home can offer many benefits. These are just a few:
More living space: A sunroom can add on to your interior space, giving you and your family more living space to use as you wish.
Custom options: With a wide variety of roof, window and door options, your sunroom can be customized to match the style of your home and your needs. From traditional to modern and everything in between, you can create the sunroom of your dreams.
Versatility: A sunroom can have many functions and purposes and be a versatile space for you to use as you see fit. Many opt to use a sunroom as an extra living room, dining room or entertaining space, but the possibilities are endless. Your sunroom could be the perfect playroom, office, workout space or hobby area.
What Is a Liferoom?
A liferoom is a relatively new concept that's essentially a sunroom taken to the next level. Liferooms utilize plenty of the latest technology to upgrade a sunroom to a fully modern, luxurious part of the home.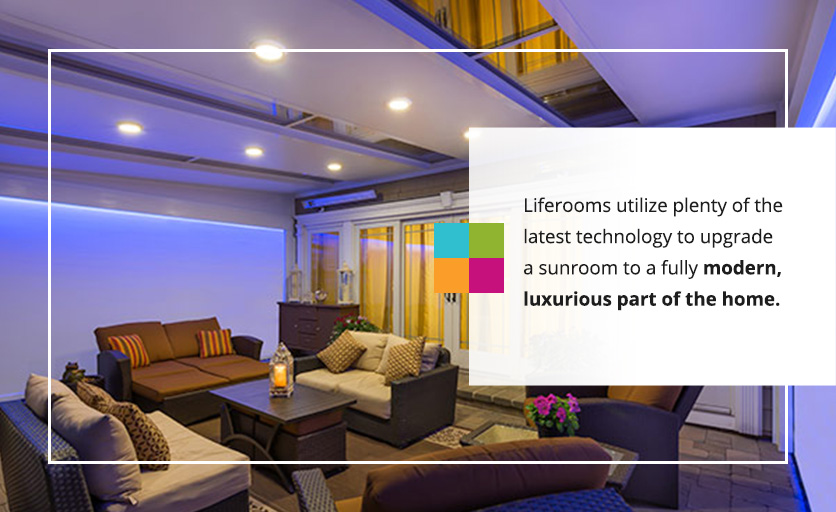 With these fully-customizable home additions, you can truly enjoy the best of both the indoors and outdoors, no matter the season or weather. Features like retractable screens, climate technology, mood lighting, home projectors, sound systems and more make a liferoom a fantastic upgrade for any home.
Benefits of Liferooms
Adding a liferoom to your home can completely transform your space, modernizing your home and providing you with all of the benefits of sunrooms. There are even more benefits, including:
Ultimate in flexibility: Liferooms are customizable from the start just like a sunroom. You can choose the styles and features that fit in with your home's existing style. Even after the construction is complete, you can enjoy the flexibility of high-tech features like retractable screens and climate control that truly allow you to enjoy the beauty of the outdoors with all the comforts of indoor living — all at the touch of a button.
Blending the indoors and outdoors: A liferoom truly takes a sunroom to the next level with this benefit. You can enjoy everything you love about the outdoors — the fresh air, sunshine and beautiful views — while having protection from the sun, insects and inclement weather when you want.
Modern technology: Liferooms utilize some of the most up-and-coming home technologies to provide you with comfort, luxury and sophistication. Fully retractable screens allow you to enjoy the outdoors fully or opt for extra protection from the sun, weather or pests. Climate technology means you can have all of the benefits of outdoor living spaces and fresh air while enjoying a temperature-regulated environment for ultimate comfort. Other fully customizable tech options include sound systems, built-in movie projectors, LED lighting and more.
Sunrooms or Liferooms: Which Should You Choose?
If you're considering a liferoom or sunroom, it can be tricky to choose between the two. The good news is that both options are highly customizable, so you can create the indoor-outdoor living space of your dreams no matter what you choose.
When you're planning out your new space, you'll want to consider a few important factors. These can include:
How the space will be used: You should have an idea of how you'll want to use your new space. Will it be an extra living room, entertainment space, hobby room or something else? Think about if you'd like the space to be usable year-round or only in warmer or more mild weather.
Budget: How much you would like to spend on your new addition can inform the rest of the project, including how big your new room should be and what technology or additional features it'll have.
Design: Consider the existing style of your home and how an addition will fit in with this style.
Views and exposures: Take into account your property's outdoor elements when choosing between a liferoom and sunroom. Perhaps you have certain natural views you're hoping to maximize with your new space. Consider the sun exposure and angles of the sunlight at different times of the day so you can find the best placement and features for your new room.
Get Started on Your Custom Sunroom or Liferoom