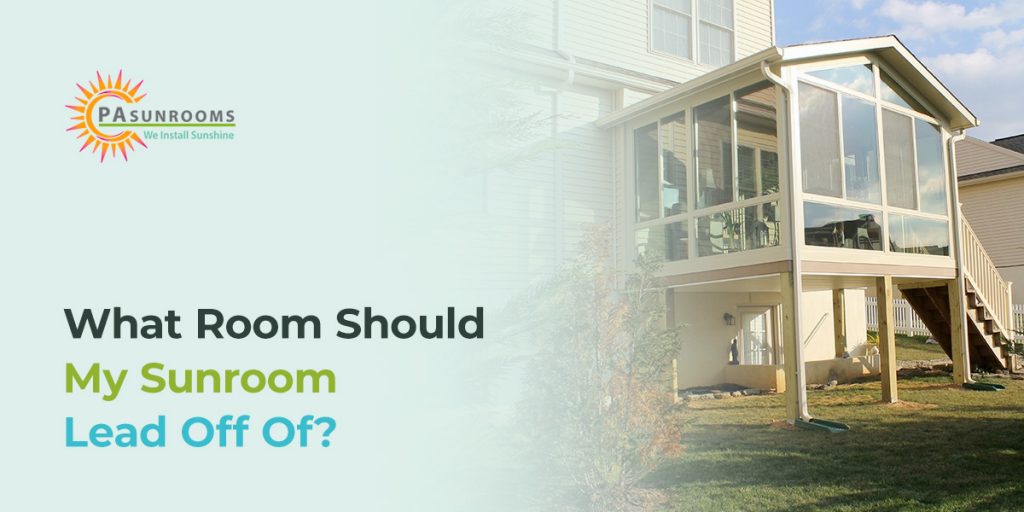 Are you considering adding a sunroom to your home? We understand — sunrooms are the perfect place to relax, take in the view, host friends and family, enjoy meals and much more. With so many benefits, a sunroom addition may very well become your new favorite space!
As with any home improvement project, there are many things to consider when preparing to add on a sunroom. A good starting point is to consider which room you'd like your sunroom to adjoin. A professional sunroom design and installation company can guide you in decision-making and turn your project into the addition of your dreams.
We've provided some fun ideas and information on sunroom orientation to kick-start your planning process.
Rooms to Connect Your Sunroom To
Check out the advantages of expanding your kitchen, living room or dining room with a beautiful sunroom.
Kitchen
Who doesn't love a sun-filled, airy kitchen? A sunroom leading off your kitchen will brighten up the room and provide ample natural light for all kinds of activities, like baking, prepping and cooking meals, cleaning, organizing and putting away groceries.
A kitchen-connected sunroom is ideal if you plan to host and entertain friends and family in your new addition. You can easily bring food and beverages from the kitchen to the sunroom next door. And cleaning up after the fun will also be a cinch because you won't have to carry trash or heavy plates and dishes very far.
Living Room
A sunroom that opens to a living room is another excellent idea. A sunroom connected to a living room can create a beautiful view of the night sky when you're watching movies with loved ones or having a family game night one room over.
If you're hosting a large group to watch the big game or celebrate the holidays, you can open the sunroom door to allow your guests to spread out and mingle in two side-by-side rooms.
And, of course, if you prefer to lounge in your sunny addition while your spouse relaxes in the den, the two of you can enjoy each room while remaining close to one another.
Dining Room
A sunroom attached to your dining room is yet another option. With a sunroom off the dining room, you and your guests can take in scenic views of the outdoors while enjoying a meal at your dining room table.
This configuration also allows you to complete tasks in plenty of natural light. For example, you may use your dining room table to tackle projects, work, write, draw, study, knit or do arts and crafts with your children or grandchildren. All these activities can benefit from a little extra sunlight.
Which Direction Should My Sunroom Face?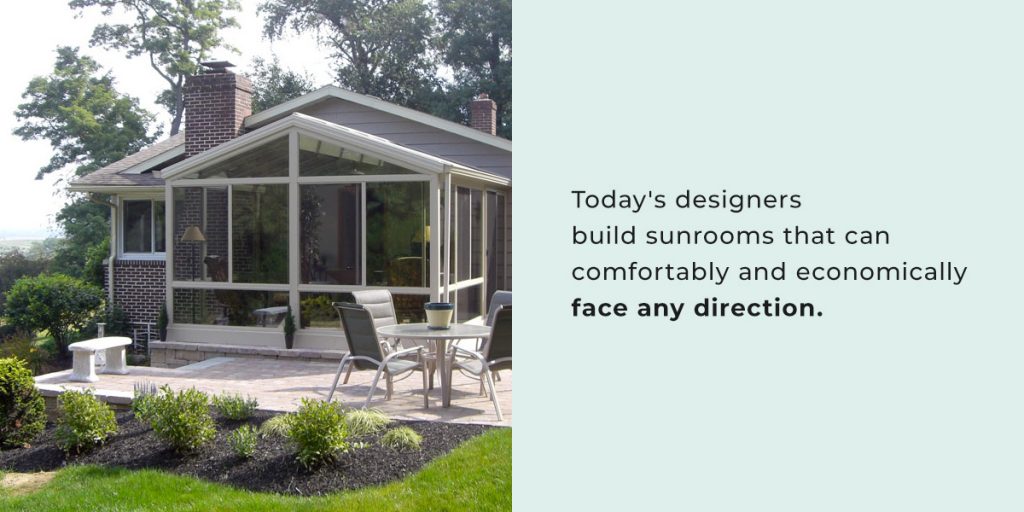 A significant consideration when deciding which room to add a sunroom to is which direction it will face. Sometimes it's best to choose a lead-off room that's closer to a particular side of the house. Your sunroom's placement should maximize available sunlight, so it's essential to follow the sun patterns in your location.
Whether you choose a north-, south-, east- or west-facing sunroom, you're in for a treat. Today's designers build sunrooms that can comfortably and economically face any direction.
Each orientation has a little something different to offer. Let's look at the characteristics of these sunroom directions.
Southward-Facing
A sunroom facing south will provide warmth and light for much of the day and throughout the year.
In the summertime, you can bask in the sunlight streaming through the windows and admire views of lush greenery and blooming flowers, all from the comfort of your new addition.
When wintertime rolls around, you can enjoy a warm and cozy front-row seat to falling snowflakes and beautiful cardinals looking for food. A southward-facing sunroom has it all!
Northward-Facing
North-facing sunrooms offer unique benefits. A sunroom on the north side of your house will receive less direct sunlight than one facing other directions, making them ideal for treeless yards, hot climates or the hot-natured homeowner.
If you're an artist or artisan, you'll want to move your workstation into a north-facing sunroom. These additions provide the perfect amount and quality of light to create with.
Eastward-Facing
Because the sun rises in the east, sunrooms facing this direction will receive the bulk of their natural light and warmth in the morning before cooling off in the evening.
If you love a beautiful sunrise and can't get enough of the cheerful morning light, a sunroom on the east side of your home may be perfect for you. You can turn it into a breakfast nook with a small table and set of chairs to take full advantage of that early-morning magic.
Westward-Facing
If you're a fan of watching colorful, gorgeous sunsets from a comfortably furnished spot in your home, you'll love a sunroom that faces west. These sunrooms receive low-angled, late afternoon sunlight. They're perfect for napping, reading or dining in the evening hours.
Why Does Sunroom Orientation Matter?
Orientation refers to the direction your sunroom's front facade faces. If this is tricky to understand, a good rule of thumb is to consider how you'll access the sunroom from your home. For example, if you walk north to pass from your home into your sunroom, you have a northern-facing sunroom.
Your sunroom's orientation matters because its direction will affect how much sunlight the room receives, which can influence energy efficiency and heating and cooling costs.
The sun rises in the east and sets in the west. Sunlight at midday is at a low angle in winter and a high angle in summer. With these fundamental facts, you can orient your sunroom in a way that allows the sun's movements to work to your advantage, boosting comfort while staying energy-efficient.
Every home and yard is different, so the best orientation for your sunroom will depend on your property's unique characteristics, plus how and when you plan to use your new addition.
Let PAsunrooms Build the Addition of Your Dreams
PAsunrooms is south central Pennsylvania's premier sunroom dealer. We've been installing sunshine and making homeowners' dreams come true since 1987. View our service areas today!
Our family-owned company provides complete design and remodeling services, so when you're ready to take on a sunroom project, all you need to do is reach out to our friendly staff. We build sunrooms to suit the needs of any home design, stylistic taste or budget.
Contact us today to sign up for a free estimate or visit one of our Central PA locations. We look forward to answering your questions!