Sunroom Addition Room Use Ideas
Adding real estate value to your home, potentially reducing your electric bill and boosting your mood are just a few of the benefits of a sunroom. But once you have it, what can you use a sunroom for? The top uses of a sunroom vary depending on a few different factors, like the size of the sunroom and what purpose you'd like to have that space serve – make it functional.
Believe it or not, sunrooms have additional uses besides serving as a formal sitting area – a sunroom can be used as an office, living room, dining room, extra bedroom, craft room, entertainment area, sitting room, master bedroom and more. Sitting rooms can certainly be relaxing, but sometimes you need the space for something more. We've gathered a list of some of the top uses of a sunroom that you can use as inspiration to transform your space.
Get Started: 717-564-2244
Using a Sunroom as a Home Office
According to a national study, 3.9 million United States employees work from home at least half of the time. That means the demand for at-home office space is on the rise, and using a sunroom as an office could be the solution. Having a separate space to shift your mind from home mode to work mode is always beneficial, but having that separate office space also comes with the added benefit of limited distractions from the rest of the house.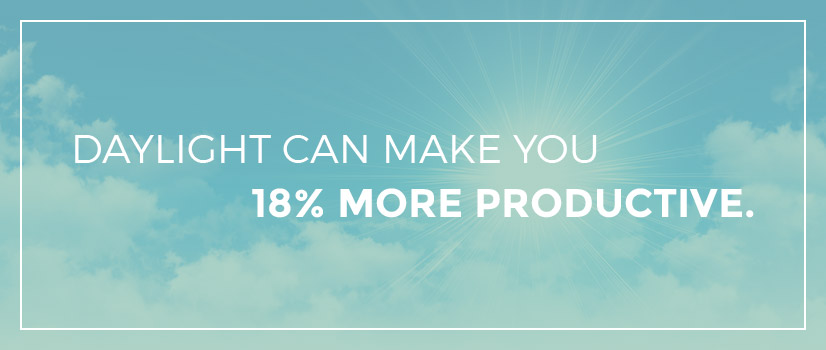 Another perk of having a sunroom as a home office – the fact that daylight can make you 18 percent more productive. If you solely use the space for work, you'll also get to take advantage of the IRS Home Office Deduction when tax time rolls around.
You don't have to be working from home at all to benefit from a home office – this space is great as a home base for your computer, laptop and tablet. It can also play an important role in storing important documents and office supplies.
The organization of the space will ultimately depend on how big of a sunroom you have, but even small, narrow sunroom spaces can fit a small desk and comfortable desk chair and benefit from the flexibility of separate filing cabinets or cube storage placed throughout the space. Larger sunrooms may be able to accommodate bigger desks with built-in storage. Whether you opt for a desk placement with a window seat that gives you a view of the scenery outside, or toward the middle of the space surrounded by light from several windows, you're sure to love your sunroom as a home office.
When it comes to décor, the natural light makes it easy to liven up your office space with plants. But regardless of what décor you choose, using a sunroom as a home office is a creative way to give your living space a purpose that boosts your health and your productivity.
Questions? Contact Us
Using a Sunroom as a Family Room or Living Room
Do you feel like you've outgrown your current family room or living room space? Or perhaps its location in the middle of your home's floor plan isn't exactly what you want. If either of these applies to you, and your sunroom has the space you need, you might want to consider using your sunroom as a family room. You'll have the benefit of outdoor living indoors.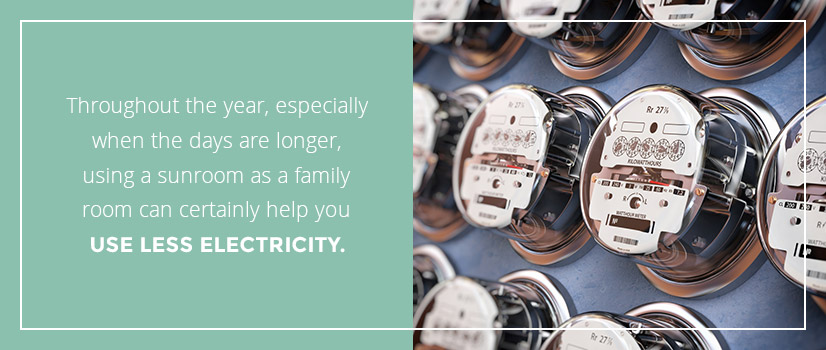 Sunrooms are often their own nook, tucked away from the rest of the home, surrounded by sunlight, year-round. This location in the floor plan makes it an excellent extension – or alternative location – for your living room. Homeowners spend a lot of time in family rooms – and so one of the advantages of using a sunroom as a living room is lighting. Throughout the year, especially when the days are longer, using a sunroom as a family room can certainly help you use less electricity.
If you prefer a dimmer atmosphere at times, instead of turning off lights, you can draw curtains and shades over the windows so that you can still maintain control over lighting while maximizing this space. Window dressings can also help with any glare of light on the flat screen TV that is a part of the family room décor for many.
The front-row view of nature can be particularly entertaining throughout the year – bird-watching in spring and summer, colored leaves in the fall and scenic snow in the winter. In addition to entertainment, there are many health benefits to having access to the sun year-round. That view is also helpful if you have children or grandchildren playing in the yard – using a sunroom as a living room gives you the ability to keep an eye on them.
As long as you have the square footage to accommodate it, using a sunroom as a family room is a wonderful way to transform your sunroom into a functional space all year-round.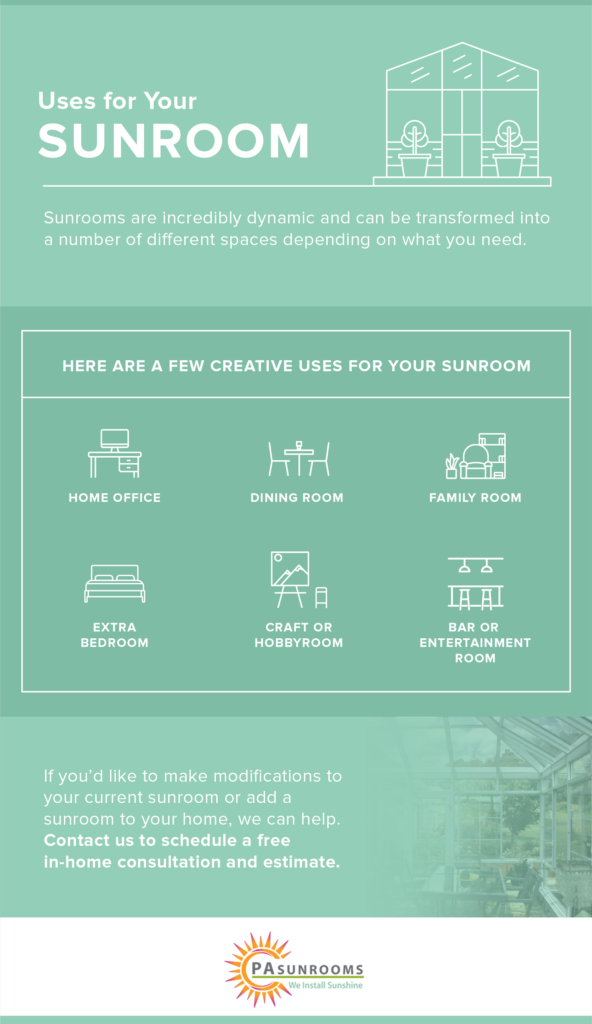 Using a Sunroom as a Dining Room
There are a few different ways you could use your sunroom as a dining room. Is your dining room currently in a location that could be used for a different purpose? If so, moving the dining room space into the sunroom could be beneficial in freeing up additional space in the home and making your sunroom more functional.
Is your home lacking a dining room? Sometimes a bar or island in the kitchen and a breakfast nook is all you have. In this case, you may be craving a bigger space for entertaining – and using your sunroom as a dining room could do just that. Or maybe you have a smaller sunroom that could make the perfect breakfast nook.
Regardless of which situation you find yourself in, using a sunroom as a dining room can be a great way to open up other areas of your home and provide seating for family and friends when you host them for a meal. From finding stunning dining chairs to the perfect table, there are many design elements that can help you create a beautiful dining space. Of course, the great outdoors provides natural entertainment and décor for you and any of your dinner guests.
Schedule a free consultation
Using a Sunroom as a Laundry Room
No one wants a laundry room that's in the middle of a floor plan. The ideal location for a laundry room is out of the way – but for many, having a laundry room that's out of the way often means it's tucked away in the basement or a closet. While these locations work well for many, they leave something to be desired – whether it's the lighting or the lack of space available for hampers and laundry accessories.
That's why many use a sunroom as a laundry room. Many sunrooms offer a bright and cheery atmosphere that's tucked away from the rest of the house and give you the opportunity to have some additional space – more than just a closet. Washers and dryers come in a variety of shapes and sizes, so whether you prefer them side-by-side or stacked on top of one another, they're flexible.
Drying racks, cabinets and other laundry accessories are equally as flexible, giving you the opportunity to maximize your space while using your sunroom as a laundry room. As a bonus, if you do most of your laundry during the day, you'll benefit from natural light, without the need for many – if any – additional lights.
Using a Sunroom as a Kitchen
Have you ever wished your kitchen was a little bigger? Does your wish list include better lighting in the kitchen? Using your sunroom as a kitchen could be a great way to utilize the space while upgrading your kitchen space. There are two ways to do this – make the sunroom an extension of a kitchen located nearby, or completely move your kitchen into the sunroom.
Each sunroom is different, but countertops and cabinets can almost always find a place below or along windows in your sunroom space, giving you the opportunity to cook and clean under the bright natural light. On the other hand, if windows extend from floor to ceiling, an island with storage and counter space may be a better option. At a glance, it may even feel like your kitchen extends into the yard, giving the illusion of an open floor plan that's tough to beat. Whatever design you choose, using your sunroom as a kitchen is an option to consider.
Using a Sunroom as an Extra Bedroom
If you need a spare bedroom for guests, consider using your sunroom. While a sunroom may not be your first thought, this space works well for a guest bedroom. The size and shape of the sunroom will ultimately determine the layout of a spare bedroom. For example, if your sunroom is narrow, you might consider a daybed at one end of the room. Not only does this help maximize space, but it also gives you the opportunity to use the room as a sitting area when you don't have guests in town.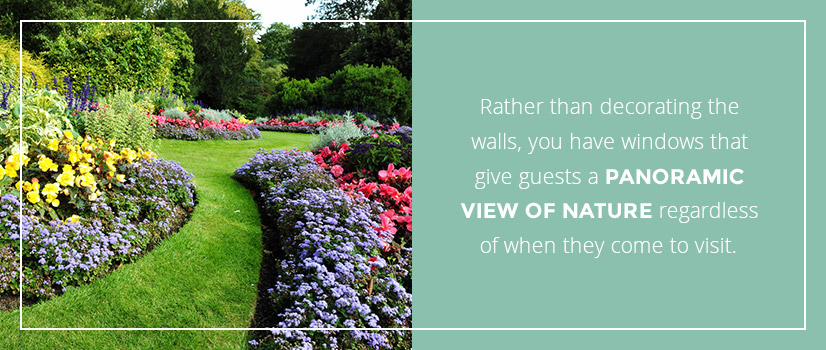 If space isn't an issue, you can create a cozy atmosphere for guests by using a sunroom as an extra bedroom. The natural light creates a bright and cheery space – and rather than decorating the walls, you have windows that give guests a panoramic view of nature regardless of when they come to visit. Add a chair, maybe even a small desk, and you could have the extra bedroom you want while turning your sunroom into a space that works for you.
Tap to Call Now | 717-564-2244
Using a Sunroom as a Craft or Hobby Room
There's no better light for crafts than natural light, which is why using a sunroom as a craft room or a hobby room is a great use of space. You no longer need to worry about colors distorted by fluorescent lights or squinting as you do needlework. Instead, you have a nice bright space to take on all of those crafts and other hobbies you've been thinking about – and since sunrooms are usually in their separate space, you have the opportunity to keep the area separate. It makes a great alternative to setting up a temporary craft space in the living room or on the kitchen table.
Get creative and maximize space with storage for all of your crafting accessories – plus make sure you have some table space to spread out as you take on sewing, painting, drawing, assembling and more. With the right furniture and design elements, using your sunroom as a craft room can be a great way to get all of your crafting supplies organized in one area without having to worry about getting it all out and putting it away when you borrow space from other parts of the house. With a sunroom for crafts, there's no more clutter as a result of an unfinished craft.
Using a Sunroom as a Bar or Entertainment Room
If you have a sunroom and are interested in having a dedicated space to entertain guests, you're in luck – you can turn your sunroom into a fun space for entertaining.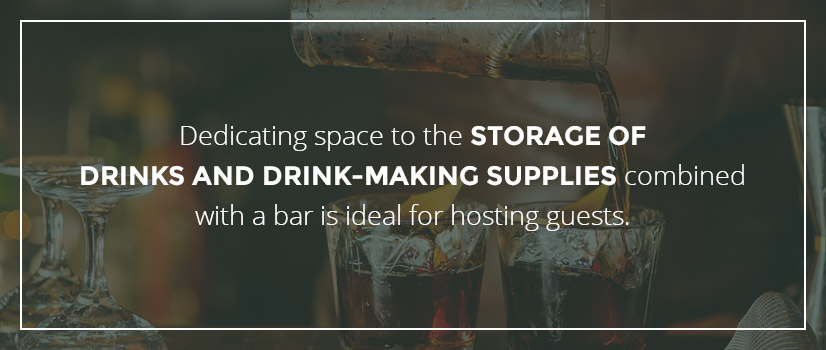 One of the main benefits of using your sunroom as a bar is that when you have guests over to hang out in this space, you don't have to keep running drinks back and forth between the kitchen and the sunroom. Dedicating space to the storage of drinks and drink-making supplies combined with a bar – perhaps even a sink – is ideal for hosting guests.
Regardless of whether or not you decide to add a bar, your sunroom works perfectly as an entertainment room. Add a pool table or other table games that you and guests may enjoy playing during a night in. Make sure there are at least a few seats for people to sit and talk as they enjoy each other's company – but not so many that it crowds the room for those who prefer to stand and pace. Bench seating is a great option that allows you to seat many guests and still keep the space open.
Don't forget to consider space for snacks and drinks – if you have some counter space in the room, with or without a bar, then you have a place to put out snacks and desserts. End tables or high top tables also make a great addition for people to set down their drink or food. The amount of furniture you put in your entertainment room depends on the size of the sunroom. However, no matter the size of the room, using a sunroom as an entertainment room is a great way to use the space and create a unique atmosphere for hosting guests.
Using a Sunroom as an Indoor Spa Area
Who doesn't love trips to the spa? Fortunately, you can create your own spa experience at home by using your sunroom as an indoor spa area. Hot tubs, swim spas, and small pools can be incorporated into these spaces to create an escape that you can enjoy all year long, regardless of the weather.
Consider adding a relaxing massage chair and a Bluetooth speaker so you can enjoy your kind of massage at home while you play the same relaxing sounds and songs you get when you go to the spa. Plants will have no trouble in a space that provides plenty of natural light during the day, so you can make sure your feng shui is spot on. Whether you decide to enjoy your sunroom as a spa area during the day or at night, you're sure to enjoy this little piece of heaven at home.
Get Started on Your Sunroom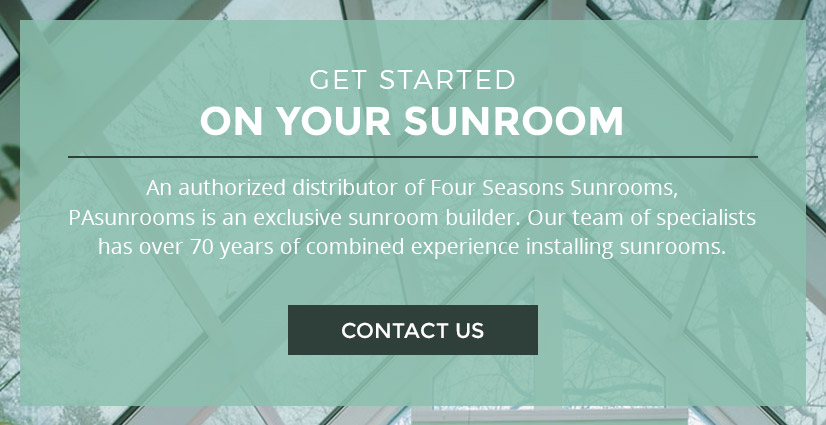 If you'd like to make modifications to your current sunroom or add a sunroom to your home, we can help. An authorized distributor of Four Seasons Sunrooms, PAsunrooms is an exclusive sunroom builder. Our team of specialists has over 70 years of combined experience installing sunrooms. We create sunrooms that are completely customized to fit your home. We've been family owned and operated for 30 years, so we understand that families come in all shapes and sizes, with a variety of stylistic preferences and budgets – and we provide sunrooms for all of them. To get started, contact us to schedule a free in-home consultation and estimate.
Call Us: 717-564-2244 Schedule a free estimate