Advice for When You are Shopping for a Sunroom
Adding a sunroom can be the best investment you'll ever make in your home. Not only does a sunroom addition significantly increase your property value, but it gives you years of pleasure and enjoyment. A sunroom is far more than just an extension of your home — it's an extension of your lifestyle.

Table of Contents
Sunrooms are extremely popular across America today. In fact, they've been highly desirable for well over 100 years. No matter what name you give them — solariums, conservatories, atriums, three-season sunrooms, four-season sunrooms or even Florida rooms — these different sunroom styles serve much the same purpose. They bring plenty of sunshine into your home while still protecting you from nature's elements.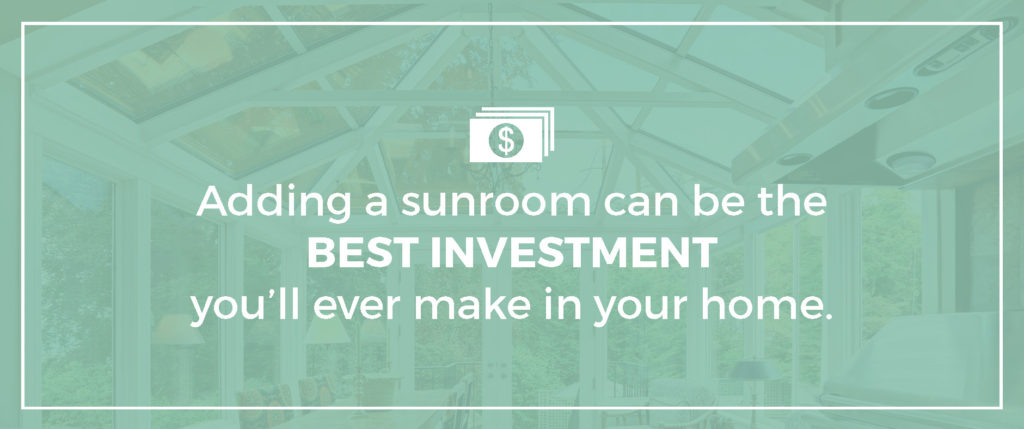 Choosing the best sunroom design for you doesn't have to be stressful or confusing. Shopping for the perfect sunroom starts with proper research and planning.
The best approach is finding a reputable sunroom addition contractor like authorized dealers for Four Season Sunrooms. They're one of North America's leading suppliers of different types of sunroom additions, and offer free consultations on what to know before adding a sunroom.
How to Plan for a Sunroom Addition
Planning for your sunroom addition starts with identifying your purpose for this home renovation project. You need a clear vision of what you want your sunroom to serve. It might be a quiet place to relax, read a book and enjoy the sun's rays during daylight hours. Possibly you want a cool place for the kids to hang out, play games and do crafts. Maybe it's an extension of your kitchen, which is the heart of most homes.
Once you know exactly what you want from your new sunroom, you can move forward with designing your addition. You might start with knowing what style of sunroom you want and working to blend it with your existing structure. Or, it might be the other approach, where you want a custom-designed sunroom tailored to appear as if it's been part of your home forever.
You've heard the real estate mantra, "Location, location, location." The same holds true for planning your sunroom. Deciding where to place your sunroom depends on many factors. Some you're in control of, while others you can't change. These are the primary considerations that influence where you locate your new sunroom.
Sun pattern and natural light: Historically, most North American locations have always preferred a south-facing setting for their sunroom. In central Pennsylvania, for instance, the regions around York, Lancaster, Harrisburg and Lebanon experience clear weather distinctions between spring, summer, fall and winter. Sunrooms from PAsunrooms can be installed in any direction for enjoyment year-round. If you have questions about where to install your sunrooms, contact our team of experts today.
View corridors: You may have a wonderful view corridor in one direction. Perhaps your home overlooks water or a panoramic vista over the town. This might present a dilemma, as you might want to capitalize on your view and work it into your placement. Something to consider is that view corridors work both ways. You may have neighbors nearby who will be staring straight through the glass in your new sunroom addition. Privacy should play an essential role in your plans.
It's also wise to realistically consider your budget. An average 15-foot by 15-foot sunroom can cost thousands of dollars, depending on materials and desired features. Before proceeding with your addition, consider what your goals are in building your sunroom. Consult with your spouse or other family members with financial input and come up with a budget you'll be comfortable with.
Before getting too far into the sunroom planning process, consult a local, reputable sunroom contractor like PAsunrooms for an accurate estimate — we can help you discover options that work well for your home and budget. Then, you can comfortably move forward and choose the best sunroom design for you.
Choosing the Perfect Sunroom for Your Home
After determining your new sunroom's purpose, location and the budget you're working with, you can start designing the perfect sunroom for your home. One of the main things to ask when buying a sunroom is what style best suits your purpose and existing structure. It's important to know there's no such thing as a universal sunroom.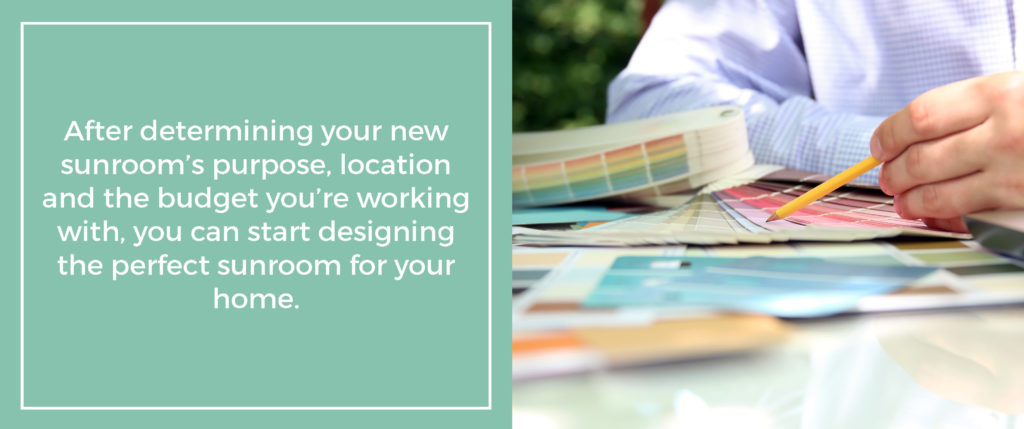 Different sunroom styles can include the following.
You're making progress with deciding on a sunroom style fitting your purpose, location and budget. Now it's time to decide on what you need to make your vision into a reality.
What You Should Know Before Adding a Sunroom
Adding a sunroom to your home is similar to the process of building a house — just on a smaller scale. However, it's not something to take on as a do-it-yourself project. As every experienced building contractor will tell you, tying into an existing structure is the most challenging aspect of residential construction.
Here's what you need to know before adding a sunroom.
Plans: Every building project, small or large, starts with accurate plans. Nowadays, almost every plan kicks off with a hand sketch and ends with computer drawings. You may hear your builder refer to these drawings as blueprints. There's no escaping how important detailed plans are for building a sunroom. Plans specify dimensions and materials. They're critical for tradespeople and for the building department to process your permit.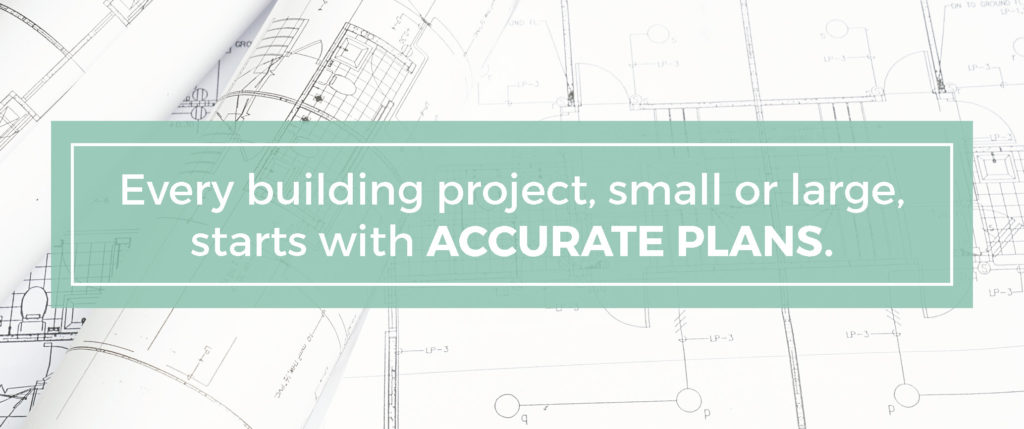 Permits: If you're wondering, "Do I need a permit to build a sunroom?" the answer is, "Yes." There's no hiding from city hall. You're going to require permits, including one for building your structure and possibly more for electrical and plumbing work. Your new sunroom is a permanent addition, and it'll be part of your land tax assessment, regardless if it seasonal or year-round. Part of the permitting process is regular inspections on your foundation, frame and final occupancy allowance. Almost always, your sunroom contractor will deal with getting the necessary permits.
Foundation: Support for your new sunroom depends on where you locate it and how much weight you'll have. You might be building your sunroom on top of an existing deck, or you might have to excavate from scratch. You and your contractor can address this in the plans, which need civic review and approval. Experienced contractors like PAsunrooms are well aware of foundation needs. They'll also have a plan for dealing with remedial landscaping after completion to finalize your home renovation project.
Structure: Many sunrooms are pre-cut. However, Four Seasons Sunrooms are completely custom designed. In the meantime, your contractor will have demolished what's necessary on your exterior to allow tie-in. This process is weather-dependent, so expect some temporary protection while construction is underway. The construction timeline will vary, according to your contractor's workload and weather concerns.
Features: Picking out your finishing features is the fun part of shopping for the perfect sunroom. It's helpful to have a photo collection from magazines or website downloads. A picture is worth more than a thousand words, and your sunroom installer wants to know how you envision the finished product. Important features include colors, flooring, lighting and any specialties like water sources for a fountain or ducts for heating. Allow plenty of time for choosing features. Work with your contractor for decisions so everyone's on the same page.
Contracts:It's impossible to overstate the importance of having a contract. Written contracts are a must for every large business agreement, which a sunroom certainly is. Contract conditions include exact materials specified, what responsibilities are on the contractor, what your role will be, payment amounts and schedules and work timeframe. It's common to give your contractor a significant down payment before construction starts, and then provide progressive payments as work advances. Contracts also include change order provisions when making alterations to original decisions.
Completion: Completing a sunroom addition takes time. Quality work is never rushed work, and your contractor is going to need daily access to your property — inside and out. Reputable sunroom builders like PAsunrooms take a realistic approach to scheduling. Even so, circumstances happen beyond their control, like weather issues and material shortages. Make sure you ask your contractor how long to expect the job will take, along with other necessary questions when you're ready to plan for your sunroom.
What Questions to Ask a Sunroom Contractor
Open communication between you and your sunroom installer is critical. Feel free to ask your contractor any question you'd like, as trust and comfort are vital to a smooth project. Here are some suggestions on the important questions to ask before adding a sunroom.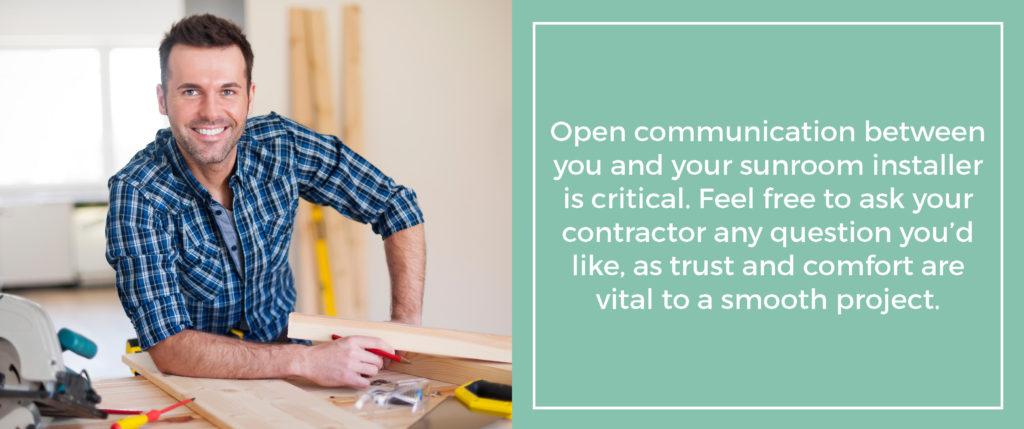 What experience do you have in installing sunrooms? Experience is so important, as is having a quality sunroom delivered on time and within budget. Sunroom installation is a specialty skill. It's not something any carpenter or handyman can do. What you want is a contractor like PAsunrooms, who've been installing sunrooms in the central PA region for 30 years.
Do you have references? Where can I see your previous work? Reputable sunroom installers are pleased to share their experience and proud to show their work. Today, online portfolios and written testimonials are common. You might ask for addresses where you can see previous projects in person. Don't be shy about asking this question before adding a sunroom. It's important to get phone numbers and call previous clients when project planning.
What warranty do you offer? Every professional sunroom installer will carry two warranty types: materials and labor. That's because most sunroom additions are a combination of a material supplier and an installer's labor. A good example is PAsunrooms working as the installer for Four Seasons Sunrooms, who is the material provider.
What insurance do you carry? Every experienced and professional sunroom installer carries valid and adequate insurance, including general liability insurance to cover property damage. The other is mandatory workers' compensation insurance that covers injuries to tradespeople. Your installer should have no problem showing you proof of current coverage. If not, that's a huge red flag.
How long will it take to finish my sunroom? Don't be alarmed if your sunroom installer can't give you precise start and finish dates. That's not a reflection of poor business. Rather, it's an honest response to a difficult question. There are too many variables involved in sunroom installation. One is the permit time, which can run from weeks to months. Another is weather conditions hampering progress. Please realize mistakes happen, materials get damaged or shorted and labor problems arise. The important thing to ask is if your sunroom contractor will commit to steady progress once they've started and not skip around among jobs.
Add a Sunroom You'll Love in PA
PAsunrooms is south central PA's premium sunroom builder. We work exclusively with nationally recognized Four Seasons Sunrooms to supply and install all types of sunroom additions. That includes three- and four-season models with all available roof types. Customization is also part of our sunroom service.
At PAsunrooms, we offer free in-home consultation and estimates. We believe in building a relationship and working together through every part of the sunroom installation process. That starts with planning your sunroom's purpose, location, design, budgeting and permitting. PAsunrooms then takes you from installation start to finish — and leaves you with an exceptional sunroom where you can enjoy a lifestyle of sunshine.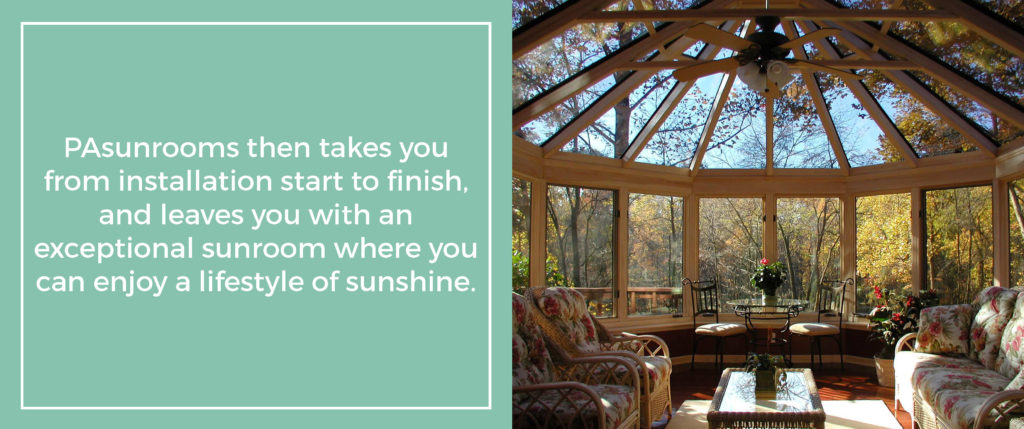 For a free sunroom consultation, call PAsunrooms today at 717-564-2244 or request a free estimate online.