As warmer weather arrives, it's important to prepare your sunroom for spring. Doing so breathes new life into your interior space and lets you enjoy more of that energizing sunlight. The best part? It's quick, easy and fun! Let's explore some top tips for getting your sunroom spring-ready.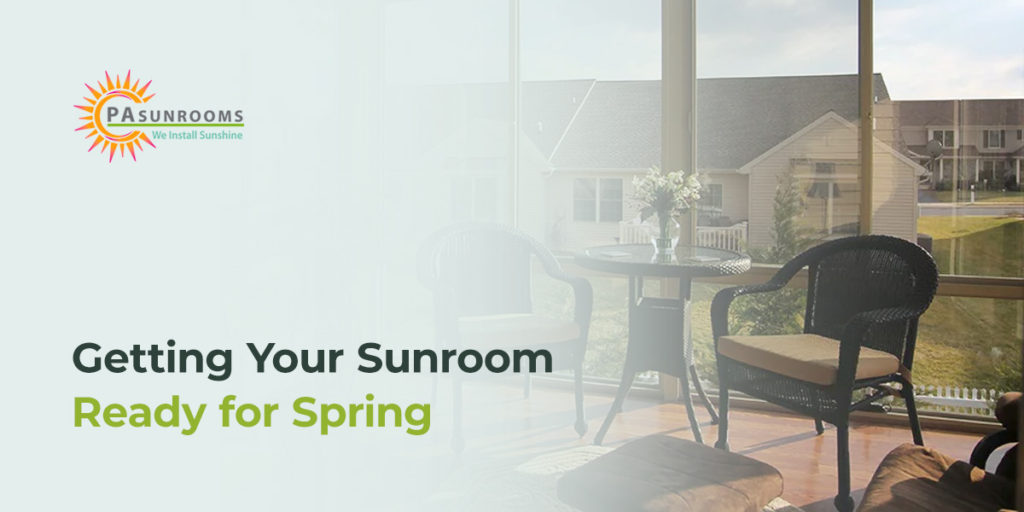 Cleaning Your Sunroom
Early spring is the best time to spruce up your sunroom. Be sure to prepare your sunroom's defining features for the warm, pleasant days ahead:
Screens: Cleaning your screens ensures they perform and look their best. To do so, pull out the screens and gently clean them with a brush. Rinse and dry them before popping them back in.
Windows: Clean windows provide the sunny, spectacular views you crave. You'll need glass cleaner and a squeegee or soft rag to rejuvenate your sunroom's inside windows. For outside windows, use a garden hose to remove debris before applying your glass cleaner.
Door: You'll be using your sunroom door more often, so make sure it's at its most stylish and functional. If your door is fiberglass, use water and a mild cleaning solution. If you have a steel door, apply an all-purpose cleaner and lightly sand the surface before giving it a fresh paint job.
You'll also want to remove any debris, dust and dirt. Be sure to clean your gutters and vacuum interior surfaces like rugs and furniture. A professional team can make maintenance easier with regular servicing.
Decorating Your Sunroom
Getting your sunroom ready for spring involves more than cleaning — it's the perfect chance to show your style and give your room a makeover! Feel free to get creative with your decor and accents.
Update Your Decor
From curtains to new furniture, you have countless ways to give your sunroom a fresh spring look. What atmosphere do you want to create? What are your favorite springtime activities? Consider adding a table to entertain guests or a deep-cushioned sofa where you can relax and watch the wildlife return. Choose vibrant or light color schemes to keep your sunroom cool and upbeat.
Add Some Plants
Spring offers plenty of sunlight for your favorite flowers and herbs. If you have a green thumb, now's the time to plant:
Hibiscus flowers
Peace lilies
Passionflowers
Begonias
Build Your Dream Sunroom Today
For over 30 years, PAsunrooms has provided our Central Pennsylvania neighbors with unique home additions. Our customized sunroom options provide year-round functionality, comfort and value. If you're ready to bring your vision to life this spring, contact us today, call us at 717-564-2244, or visit us for a free estimate!