How often should you replace your windows? This question is one that every homeowner asks. Knowing when to replace windows, of course, depends on your specific situation. Here are a few signs you need new windows:
The window is hard to open or close
The window will not stay open
The window frame is rotting or cracking
The window is not blocking heat transfer, causing a draft year-round
The window is over 15 years old
If you have one or more of these problems with your window, it may be time to start considering replacement.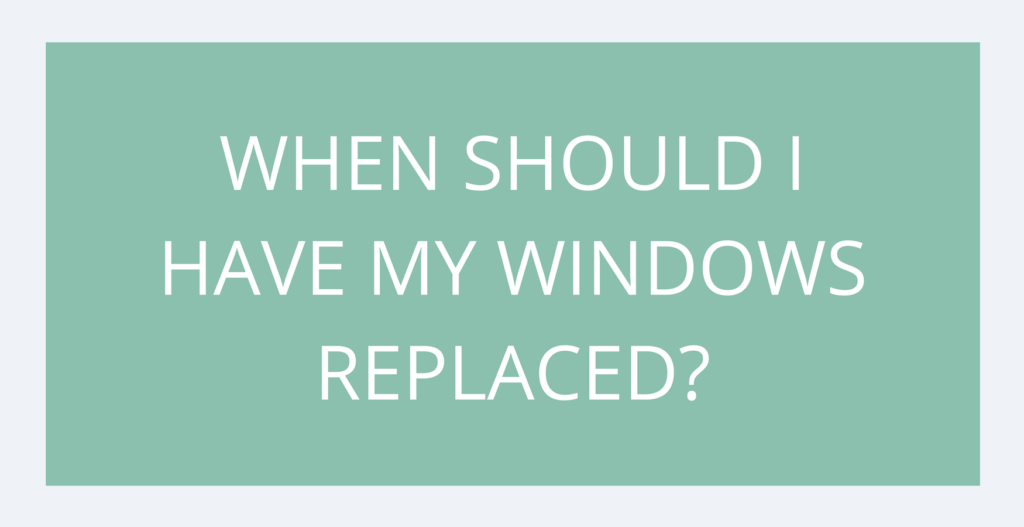 Should I Repair or Replace My Window?
The next question is, do you replace your window or can you repair it? There are a few window issues that are relatively easy to fix. If you have a cracked pane or a pane without glass, then just replacing it may be sufficient. If the window is stuck, it may be old paint that is the culprit and removing it may solve the problem.
However, if your window features rotting wood, is a struggle or impossible to open and close — even after removing the paint or the putty that holds the panes to the muntin, which is the piece of wood that separates the panes — you need to replace.
Also, if your windows are allowing in drafts and not blocking heat transfer, replacing them with new, insulated and energy-efficient windows may save you money in the long run. Finally, if you are having any problems with your windows and they are 15 years old or older, it is almost always the right choice to replace them.
Should I Replace All Windows at Once?
If you are replacing your windows because of age, it can be a good idea to replace them all at once as the problems you are having with some of the windows will probably soon pop up with the others. Also if you have multiple windows that are allowing heat to escape, replacing one window with an energy-efficient alternative and not the others won't do you much good. If your windows are less than 15 years old and you are having a specific problem with one window, it's probably okay to replace just that window.
Should I Replace My Windows Before Selling?
The answer to this question is a judgment call, based on your unique situation. If your windows are noticeably falling apart, you will probably get a higher value for your home if you replace them. If you substitute them with energy-efficient windows, let your realtor know this as a selling point, as it'll influence the new homeowners' energy bills and reduce their long-term ownership costs.
Choose PAsunrooms When It's Time to Replace Your Windows in Pennsylvania
If you're ready to replace your windows in Pennsylvania, consider energy-saving windows from PAsunrooms. These are incredibly energy-efficient windows with the highest possible level of UV protection and impact resistance. These windows offer great insulation while allowing in plenty of natural light and come with a lifetime limited warranty. We offer a wide variety of windows, including double hung windows, sliding windows, picture windows, bay windows and more. For more information or to order your window replacement, call us today at 717-564-2244 or contact us online now.