Investing in a sunroom is a great decision that adds property value, extends the usable space of your home by adding square footage and provides a designated area for entertainment, relaxation and gathering. For many people, the choice to build a sunroom in easy. It's choosing the right sunroom style that requires more thought.
"Sunroom" is a broad term that generally refers to any room designed to let light in and give you access to the outdoors, capitalizing on the view of your surroundings. Technically, there are specific differences between sunrooms and patio enclosures. They vary by construction, materials, intended use and the installation of heating and cooling systems.
When you begin your research into sunroom options, you might be surprised by just how many different types there are. Sunroom types depend on many factors, including:
How to blend it seamlessly into the existing home structure
How you plan to use the space and how often
The type of material used for the room's roof
Heating, cooling and insulation needs
Different classifications of sunrooms have different specifications and features as well as different purposes. Here we'll review each of the options you'll have when you choose PAsunrooms as your sunroom contractor.
Conservatories

Conservatories are separate but enclosed structures that extend from a home. Also known as solariums, conservatories are designed to capture and retain the warmth and light of the sun with their all-glass design. They're constructed with a sturdy metal frame, typically made from aluminum, giving this traditional sunroom type a durable build without compromising the continuity between the sunroom and your home.
Acting more like a greenhouse, conservatories were traditionally used for growing plants and providing them with the warm environment and sun exposure they need to thrive. People who have conservatories installed also love these glass sunrooms for relaxing and reading in a space that provides ample natural light.
At PAsunrooms, we provide two conservatory styles for you to choose from:
Georgian Design: Inspired by European Renaissance castles, Georgian-style conservatories follow a classic architectural style. Compared to the Victorian option, Georgian conservatories are more squared in style, which typically offers more floor space.
Victorian Design: Elegant and romantic, Victorian-style conservatories are those you may think of as the traditional conservatory style. With their "bullnose" design, Victorian conservatories extend from the house in a rounded shape, giving you the sense of a wider, panoramic view from your sunroom.
When you choose to have a conservatory installed as an extension of your home, you'll be creating a versatile space you can enjoy for years to come. Browse our gallery of conservatories to get a better idea if this sunroom type is right for you.
Patio Enclosures
If you're looking for a sunroom feel without the commitment of a full sunroom addition, a patio enclosure could be the solution for you. Patio or porch enclosures are built from your existing porch or patio structures by using your home's roof that covers your porch or patio. Though patio enclosures don't feel quite like a direct extension from the inside of your home like sunroom additions do, they're still a good compromise for many families.
With a patio enclosure, the contractor installs walls under the roof or replaces any screens you currently have with glass walls. A patio enclosure is customized to work with your home's design, matching its siding, trim and color scheme. In fact, they can be customized to any extent, such as installing insulation to help you get more use out of your patio enclosure.
Even without proper insulation, patio enclosures can still cover you against the elements and let abundant light in, allowing you to get as much use as possible from them. Review our gallery of patio enclosures to see how this sunroom option might be right for you.
One of the most attractive reasons for choosing a patio enclosure over a sunroom addition is that it gives you the flexibility to upgrade down the road. Upgrading a patio enclosure turns the space into a more liveable or permanent structure. However, if you're looking to achieve the feeling of having a sunroom directly in your home as opposed to it being an external room, one of the many other sunroom options might be a better choice for you.
Sunroom Roof Types
Glass Roof Sunrooms
Glass roof sunrooms are sunroom additions that look like conservatories and are built with a glass roof. Although you may think you know off the bat whether a glass roof sunroom is right for you, there are many aspects of this style of sunroom to consider.
Glass roof sunrooms are a marvelous way to brighten up the home, as an abundance of natural light flows directly from above. If the ability to maximize natural light is one of the most important features of a sunroom for you, a glass roof sunroom will be the better choice compared to a solid roof sunroom. It will provide you with an unobstructed view, allowing you to fully appreciate your surrounding property from all directions.
For some, a glass roof sunroom may provide too much light and heat. Keep in mind that our sunrooms use CONSERVAGLASS SELECT™ glass, which reduces excess heat transfer and UV rays.
In terms of architectural design, many people love the way an all-glass sunroom looks in contrast with their home. It can certainly add intrigue and dimension to your home's existing design while transitioning nicely with its architectural features. However, some people may prefer that their sunroom's roof remain solid to match their home's roof.
With a glass roof sunroom, you also have the option of matching or contrasting the glass roof's slope with your existing roof's lope. Three primary architectural designs exist — curved eave, straight and cathedral. View our photo gallery for inspiration on which glass roof sunroom is right for you.
Solid Roof Sunrooms
A solid roof sunroom offers homeowners just as many benefits as a glass roof sunroom but in different ways. This option would blend in well with your home and can be designed to look seamless, never letting on that an addition was built. These sunrooms use roofing materials that can match your existing roof. The consistency of a solid roof sunroom creates a more cohesive look that doesn't change abruptly like a glass roof does. Maintaining this cohesive style may help your home stand up better at resale if you ever plan to sell.
Because solid roof sunrooms use traditional roofing materials as opposed to glass, the costs tend to be lower, as the material used in glass roof sunrooms is state-of-the-art. Without glass overhead, many people find that the solid roof sunroom provides greater protection from UV exposure and heat. However, from within, the solid roof sunroom limits your view and natural light compared to glass roofs, which might deter sun-lovers.
As with any sunroom style, you have the luxury of customizing your solid roof sunroom however you choose. A traditional cathedral roof frame may complement your home's style, or you might select a straight roof that transitions or contrasts from your home's roof angle. The interior of your solid roof sunroom can also be customized to match your home's style, including natural wood beams. To get a better idea of how a solid roof sunroom can look, view our gallery of solid roof sunroom designs.
Three Season Sunrooms

Three season sunrooms are rooms designed to be enjoyed in all seasons except during cold Pennsylvania winters. They're fully enclosed additions made with glass walls that allow you to appreciate your view, bask in natural light and increase the usable space of your home.
What three season sunrooms aren't designed for is keeping in heat during the cold winter. They aren't installed with the same thermal glass that's in a four season sunroom. For this reason, three season sunrooms are more affordable than four season options, as they require fewer materials and less expensive glass to construct.
Three season sunrooms are a good compromise, especially for homeowners who tend to spend their winters out of the Pennsylvania area. Even if you aren't a snowbird, a three season sunroom may be a good option if you and your family prefer to spend cold winter nights in front of your living room's fireplace.
Four Season Sunrooms
A four season sunroom is a full and complete extension of your home that can be enjoyed all year, even in the winter months. These rooms are designed to be a part of your home with proper insulation from heat loss. The glass used in four season sunrooms from PAsunrooms is called CONSERVAGLASS SELECT™ glass. Designed to be energy-efficient, this glass is strong and highly insulated, preventing heat transfer from your sunroom to the outdoors.
The ability for a four season sunroom to be enjoyed even in winter is appealing to many people. It's a good investment for those who are constrained in their current home's layout and plan on using the sunroom not just for enjoyment but for extra square footage and continual living space as well. For people who are affected by seasonal affective disorder, a four season sunroom offers a bright, natural space that can ease the winter blues.
Though installations of four season sunrooms are more expensive than other sunroom types, they're worth the investment when you know without a doubt that it will improve your overall lifestyle every day of the year.
How to Choose Which Custom Sunroom Is Right for You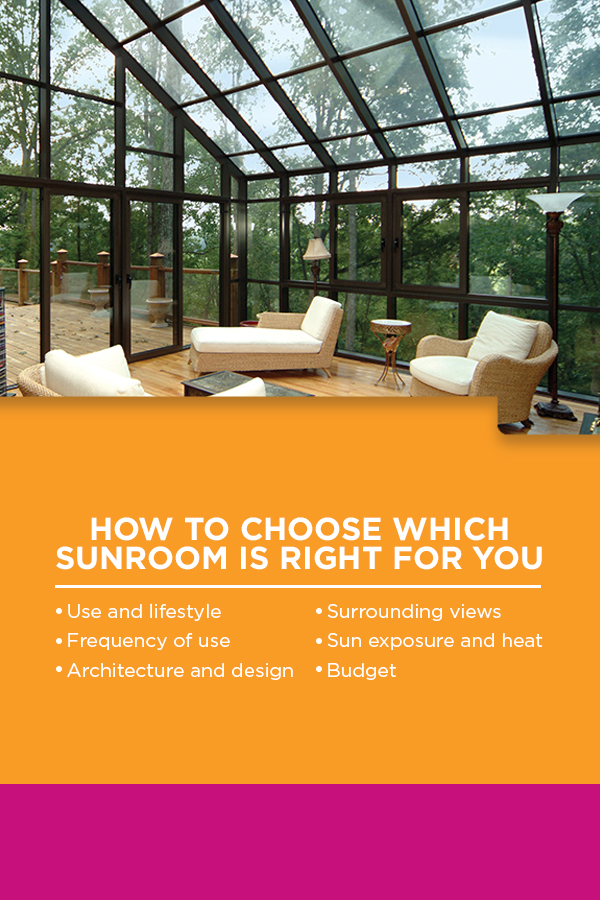 With a better understanding of the variety of styles of sunrooms and what they each have to offer, you can now narrow down your selection. Choosing the right sunroom for you is a highly personal choice, requiring you to consider many aspects of your lifestyle and budget. When you're weighing your sunroom options, here are the top things to factor into your decision:
Use and lifestyle: A sunroom should be a space that's perfect for your lifestyle. Is it a quiet place to connect with nature during the day? An impressive and welcoming area for hosting guests and entertaining late into the night? How you primarily intend to use your sunroom will determine the types of features you require from it, which will help you decide which style to pick.
Frequency of use: Not only should you consider how often you'll use your sunroom, but you'll also need to consider whether it's something you want to enjoy year-round or just during spring, summer and fall. If you're a snowbird and head south for the winter, you know you won't be using your sunroom in the offseason, so a three season sunroom would be your best option. If you want a sunroom for the extra usable space and to create a daily sanctuary, a four season version may make the most sense.
Architecture and design: When you're choosing the right sunroom type for your home, you'll need to consider the architectural elements of your property's exterior. Some people emphasize how their sunroom addition looks compared to their home. Consider how a glass roof over a solid roof sunroom could affect your home's appearance and which roof design will add to its style in a way that aligns with your taste.
Surrounding views: If you have surrounding views of nature you want to capture, you'll want a glass roof sunroom to give you an unobstructed view of your surroundings. However, if your reason for wanting the room is less about capturing the view and more about having a bright space for relaxation, a solid roof sunroom may be a better choice.
Sun exposure and heat: Consider the level of sun exposure you're comfortable with. Some people can't get enough direct sunshine, while others are sensitive to its heat. Whatever your preference, you'll find a good sunroom pick in either a glass roof or solid roof sunroom.
Budget: Last but not least, you must consider your budget for this investment. There are ways to save money, and there are ways to invest in added features. By working with a PAsunrooms representative, you can put together the best sunroom style and features that work within your budget.
PAsunrooms Can Help You Get the Sunroom Style of Your Dreams

If you're ready to start designing the sunroom of your dreams, choose PAsunrooms to turn your vision into a reality with our distribution and installation of high-quality, attractive Four Seasons Sunrooms materials. At PAsunrooms, we work with customers throughout the Central PA region, including Harrisburg, Lancaster and Carlisle, to design and build the perfect sunroom for each unique lifestyle and budget.
With our free in-home consultation, we can work directly with you and your existing home's design to help you choose the perfect sunroom and customize it to meet your needs. As a family-owned-and-operated business, we understand the importance of creating a beautiful space in the home to be enjoyed for years to come. When you choose PAsunrooms, you're choosing more than 30 years of installation expertise no matter which sunroom type you choose.
Contact PAsunrooms today and work with our expert sunroom contractors to determine the right sunroom for your needs and lifestyle. Call us at 717-564-2244 to learn more about a free in-home consultation to begin making your sunroom dreams come true.