Whether you're retired or preparing to take this step, you'll need a relaxing space where you can enjoy your golden years. Adding a sunroom to your home will give you exactly what you're looking for.
This all-season room will let you experience nature and have a space where you can gather with friends and family.
Benefits of Having a Sunroom During Retirement
One of the best home additions for retirement is a sunroom. Having a sunroom or screened-in porch helps you:
Improve your health: Sunrooms let in as much natural light as possible. In this space, you can soak in the sun's warm rays without pesky summer bugs like mosquitos. You'll boost your Vitamin D levels and improve your mood whenever you spend time in your sunroom.
Have a relaxing escape: Whether you transform your sunroom into a yoga studio or a greenhouse, you can create a relaxing escape right in your own home. Even your pets will appreciate having a bright, airy space to rest and refresh in.
Gain extra space for guests: If you frequently entertain friends and family, you may find that you're often short on space. A sunroom is perfect for entertaining your loved ones. You can even use it as an extra room if you plan to have others spend the night.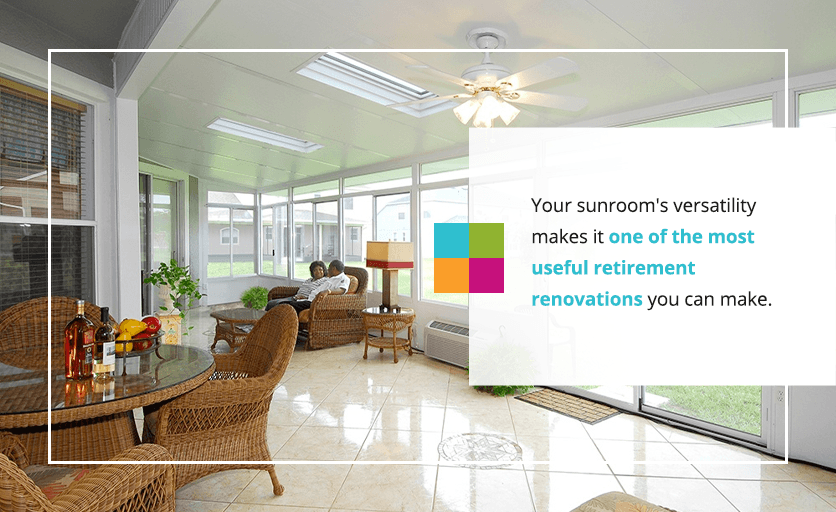 How to Enjoy Your Sunroom During Retirement
Your sunroom's versatility makes it one of the most useful retirement renovations you can make. Here are just a few ways you can enjoy a sunroom:
Reading nook: Whether you love modern mysteries or classic novels, your sunroom can easily house all your favorite books. You'll gain a warm, cozy spot to read or journal.
Entertainment room: Sit back and watch a movie or listen to your favorite artists in your new entertainment room. Your sunroom is the perfect space to enjoy television shows on your own or invite others over for a movie.
Card/ game room: From bridge to Phase 10, you can play countless card games in your new space. Gather your friends and family to enjoy a beautiful view while engaging in some friendly competition.
Request a Free Consultation
PAsunrooms is a Four Seasons Sunrooms distributor with decades of experience building and servicing sunrooms and screen rooms. We offer a variety of sunroom styles to fit different home designs and budgets. Looking for design inspiration? Visit one of our Central PA Design Center locations!
Interested in learning more about our sunroom options for retirees? Request a free in-home design consultation today.