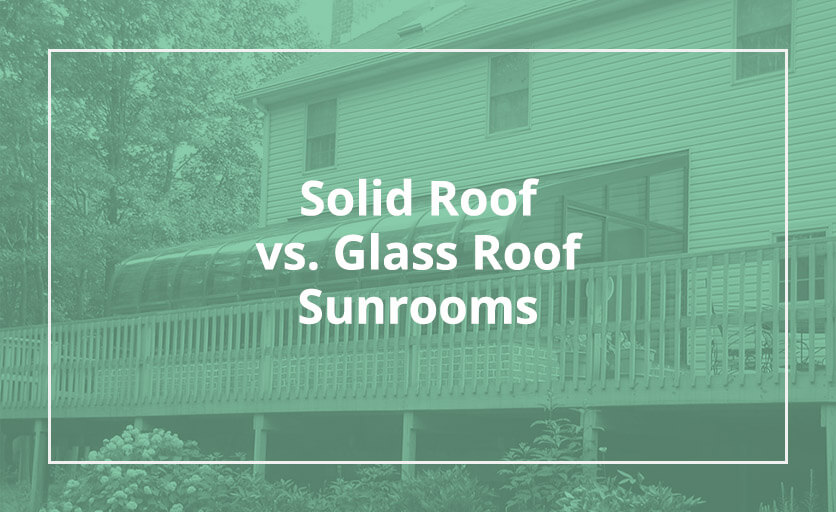 Sunrooms provide additional space in your home to add larger lounging areas, create a comfortable new living space or entertain guests all year long. Their natural ambiance and signature open concept allow you to make the area unique and entirely your own. The roof you choose for your sunroom can tie the whole space together with numerous design options for you to explore. The two main roof types are glass and solid roofs.
These roof types for sunrooms come with pros and cons, which can determine how you perceive the layout of your living area. Whether you prefer a completely open space to immerse yourself in nature or you desire a relaxing getaway from the busiest rooms in your home, a glass roof or a solid roof can serve your needs. Learn the difference between glass and solid roofs to see which option is best for your sunroom.
Differences Between Solid Roofs and Glass Roofs
Glass sunrooms can have a solid roof or a glass roof to accompany the overall aesthetic of the roof based on your styling preferences. Both options provide a calming atmosphere that matches the aesthetic of a sunroom. However, you can expand the openness of your room or complete the look with a roof that matches your home.
The main difference between solid and glass roofs is the material. Solid roofs typically use aluminum, vinyl or wood finishings that complement the house's architecture. Glass roofs maintain a consistent, clear structure throughout the walls and ceiling for a sleek open concept.
The designs of both types of sunroom roofs differ slightly. Glass and solid roofs can both take on a straight or angled style to accentuate the home's architecture using varying materials between the roofs.
If you are deciding which roof to invest in, consider these sunroom roof types as a blank canvas for accentuating the rest of the room so you can begin creating a vision for your perfect living space.
What Is a Glass Roof?
A glass roof for a sunroom is a ceiling made entirely out of glass. This elegant sunroom roof type enhances the feeling of being in nature by opening sightlines to the sky to create an aesthetically pleasing living space for homeowners.
Glass roofs come in three different designs:
Curved eave roofs: This roof design curves directly into the wall facing away from the house. A curved eave style creates a rounded corner for your sunroom without the edges of a standard roof. This design is perfect for retro-style homes due to incorporating straight and curved lines.
Straight roofs: While providing the same amount of natural light as a curved eave roof, straight roofs have a straight edge to separate the ceiling from the three walls outside the house. This roof design is simple yet elegant and modern to match any home's style.
Cathedral solid roofs: This type of roof takes two slanted edges on top of the sunroom that meets in the middle to create a pointed tip. Recreating a cathedral design using glass material is perfect for a Victorian-style house.
Pros of a Glass Roof
Glass roofs make it easy to bask in the sun all day long. You can sit in your sunroom and take in the sunlight hitting the roof for hours of relaxation and warmth. Even at night, you can enjoy stargazing without feeling the cold evening temperatures outside.
With a glass roof, you can observe the outdoors from the comfort of your living space. Take in the calming sounds of the rain or watch the wildlife around your property without having to set foot outdoors. This roof type allows you to remain dry and free from flying debris during a storm while observing your yard.
Glass roofs are energy efficient because of their ability to retain heat. Your sunroom will receive more direct sunlight each day because of the clear ceiling, which can save you more money on heating during the colder months.
Cons of a Glass Roof
Glass roofs, while creating a beautiful ambiance, can let in too much light for some homeowners' preferences. If someone is using a sunroom as a bedroom, a glass roof can bring in the intense morning sun, making it a challenge to stay asleep during the early hours of the day. PAsunrooms uses exclusive, high-performance glass that reduces the intensity of the sun which creates a climate-controllable living space
Because of the consistent material of a glass roof, there is less flexibility in choosing the design of the ceiling. With a solid roof, you have several options for creating the layout in materials, color and shape to create a unique space in your home. Glass roofs provide an elegant feel to your room, but you can only choose from one material — glass.
Glass roofs cost more than a simple solid roof because of the material. This financial difference is a result of the thickness of the glass and the extra care taken by contactors during installation to ensure nothing breaks or cracks. So, you may need to decide whether to spend more upfront and save money on heating costs or spend less on a solid roof.
What Is a Solid Roof?
Solid roofs for sunrooms can create a consistent design that matches the current roof for your home. This roof type is popular among homeowners who want to make a subtle addition to their house. For this reason, solid roofs typically use the same material as the roof of the house.
If you like the idea of an open concept for your sunroof but think a glass roof may let in too much light, you can discuss placing skylights in the ceiling with your contractor. This choice grants you the enjoyment of the sounds and sights of nature without the intense sun rays during all hours of the day.
Solid roofs come in two designs:
Straight solid sunroom roof: This simple architecture design sits at a diagonal or flat 180-degree angle. The simplicity of this roof gives extra flair to the rest of your home's exterior. Straight solid roofs are the most common choice for homeowners because of their versatility when fitting in with the preexisting style of the home.
Cathedral solid roof: This roof design mimics the straight edges meeting at a point typically seen in church architecture. With a solid roof, this style matches well with almost any style of home due to its consistent lines and many design options.
Pros of a Solid Roof
Solid roofs for sunrooms give homeowners more freedom to explore color, material and shape design options. While most choose to match their home's current roof to maintain a consistent style, you can browse through plenty of choices before making any final decisions. Incorporate your personal style into the new space or seamlessly integrate your sunroom to create a beautiful living space throughout your home.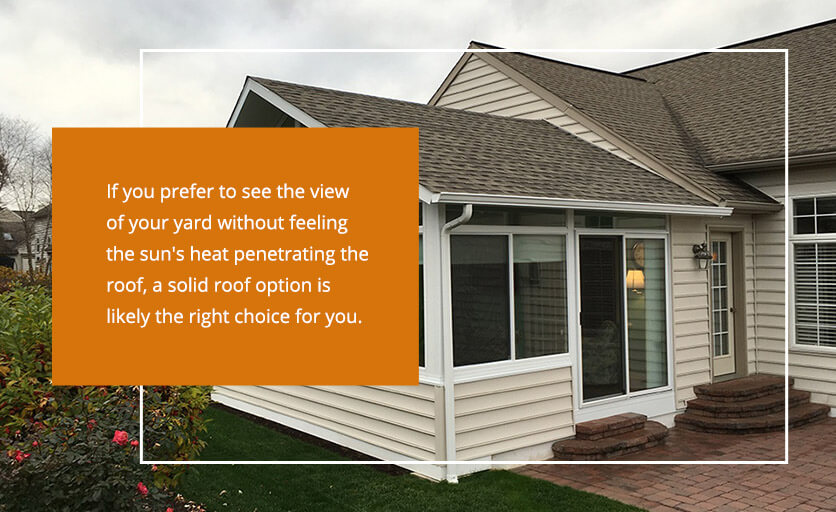 If you prefer to see the view of your yard without feeling the sun's heat penetrating the roof, a solid roof option is likely the right choice for you. Solid roofs provide more shade than glass roofs, so you can relax in a cooler area at all hours of the day.
Solid roofs are generally the less expensive option for sunroom ceilings. With this roof type, you can choose from wood, vinyl or aluminum and still save more money on the initial cost of installing the roof.
Cons of a Solid Roof
Of course, solid roofs use significantly less glass than glass roofs. While providing more shade and saving you more money are significant benefits of installing a solid roof, this choice can also make your sunroom look less consistent with the design of the glass walls.
The edges of the solid roof that meet the walls can sometimes look disrupted due to the material difference. Your styling preferences can dictate if this factor is more or less important to you when installing this type of roof.
Solid roofs let in significantly less light than a glass roof. Those who prefer a constant view of their yard may find their roof's solid material distracting or disrupted.
Which Roof Type Is Right for Your Sunroom?
The roof type you choose can enhance the personal style you wish to incorporate into your extra living space. If your vision requires a new roof design, but you are unsure where to start, the experts at PAsunroom's design centers are here to help. These experienced professionals can assist you in finalizing a plan that fits your lifestyle to create the perfect sunroom.
You can gain additional inspiration for your sunroom roof type by glancing at our glass roof photo gallery and our solid roof photo gallery. With flexible design options and years of experience at PAsunrooms, your vision for the perfect sunroom can transition from a dream to your new reality.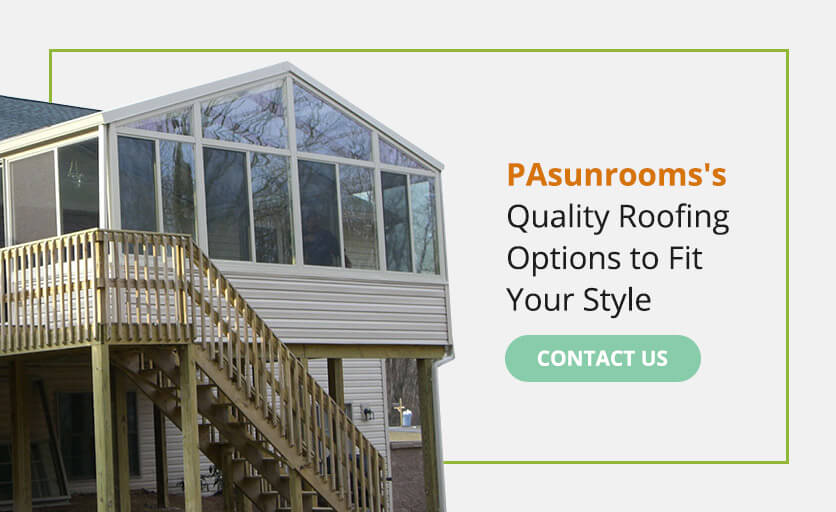 PAsunrooms's Quality Roofing Options to Fit Your Style
Are you interested in installing a glass or solid roof for your sunroom? PAsunrooms has various styling options to fit your preferences. We serve Central Pennsylvania homeowners around Harrisburg to create a beautiful home addition for local properties. Visit us in person for design inspiration and view our service region!
Schedule a free estimate to determine how we can accommodate your design preferences and budget. Our financial options make it easier to match your vision for the perfect sunroom as efficiently as possible. We can discuss the best approaches for installing these roofs and how well they can accentuate the aesthetic of your sunroom. Our roofs are custom-made to fit your home's style, so you get reliable results that last for years.
Contact us today with any questions to get started on installing the right roof for your sunroom.