A hot tub in a sunroom can feel like a genius solution. You can enjoy soaks in your tub no matter the weather, all with more privacy and comfort. By having your hot tub inside a sunroom, you can even extend hot tub season and soak longer.
Depending on several factors, you may be able to install a hot tub in your sunroom or build your sunroom around a hot tub. Fortunately, Four Seasons Sunrooms are flexible solutions that can accommodate a hot tub in many cases. A hot tub enclosure is a perfect combination with the experience and professionalism of PAsunrooms, the exclusive dealer of Four Seasons Sunrooms in central Pennsylvania.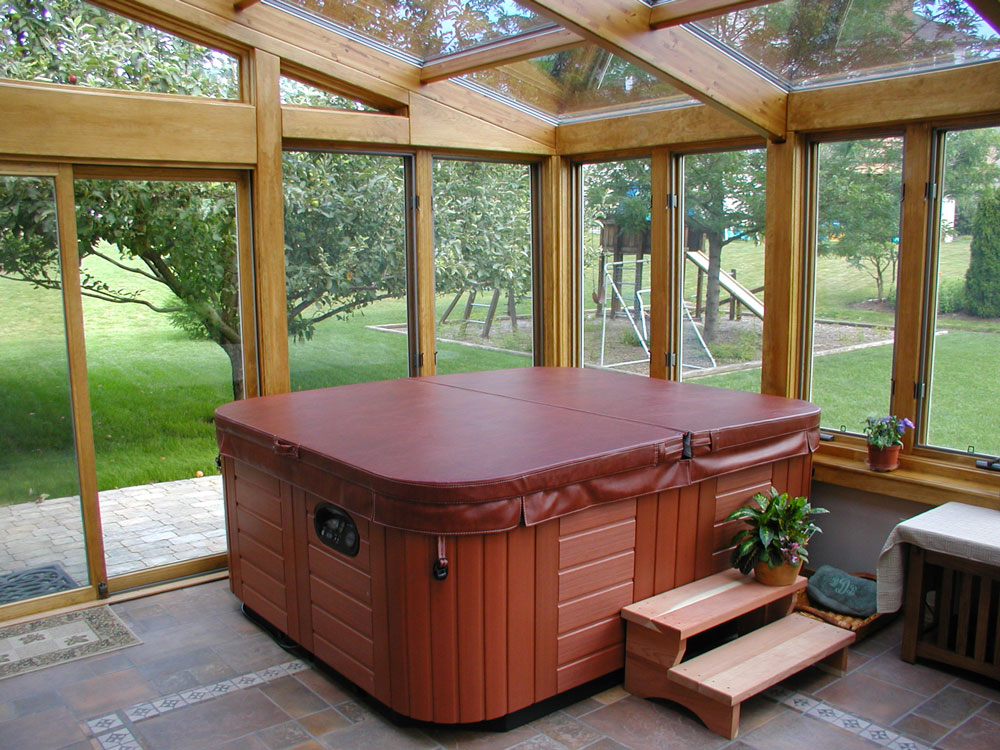 Putting a Hot Tub in Your Sunroom
PAsunrooms offers free in-home design consultations, where our professionals assess and provide custom recommendations. Our team considers your style preferences and the following factors:
Size: Your sunroom needs to fit your hot tub, and the foundation also needs to accommodate the weight of a filled tub. Four Seasons Sunrooms has many sizes and styles for you to choose from, according to the design you want. In addition, these sunrooms feature energy-efficient and temperature-controlling Conservaglass Select™ glass, which you can install on any side of the home. Build your sunroom on the side where your hot tub is, even if it's not the side with the most sunshine.
Ventilation: To control moisture, you'll want to design a sunroom with the right amount of ventilation. Since PAsunrooms is a full-service contractor, we can design, prep the site, handle any building permits and paperwork and fully install your sunroom. We build to your specifications, so your new addition is suitable for your needs.
Adding a Swim Spa to Your Sunroom
A swim spa provides many benefits for your home, and it can be an excellent addition to your existing sunroom. Create a private oasis in your outdoor living space by enclosing a swim spa. Consider some of the following factors before adding a swim spa to your sunroom:
Look for a high-quality product that adds value to your property and lasts a long time.
Think about why you want to install a swim spa — to exercise, relax or both.
Measure the area in your outdoor living space to confirm that your swim spa would fit and accomplish its purpose.
Decide whether you want an in-ground, above-ground or semi swim spa in your sunroom.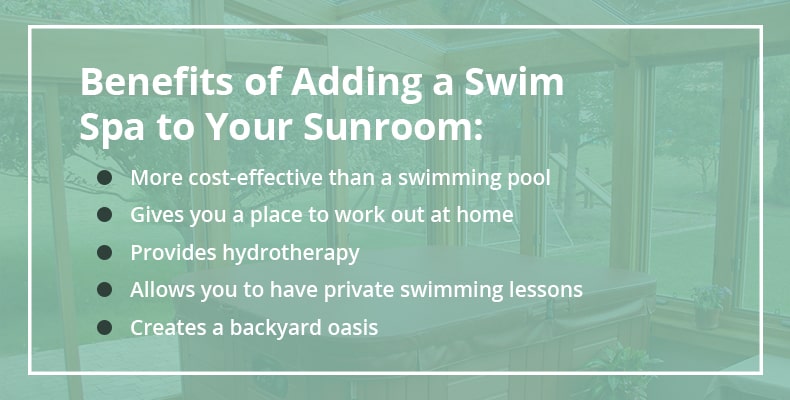 Benefits of Adding a Swim Spa to Your Sunroom
As you're shopping for sunrooms for swim spas, remember the following advantages of having this addition to your property:
It's more cost-effective than a swimming pool: Since swimming spas are slightly smaller than swimming pools, they have a lower upfront cost. They also use less water, heat and chemicals, so they'll save you money and time in maintenance. With all the money you could be saving, you can add more bells and whistles to your swim spa or even update your sunroom to include more decorative accessories.
It gives you a place to work out at home: A swim spa provides you with a manageable space to work out and exercise throughout the year. Swim laps in a contained area and get in the zone as you work out. You may also get a swim spa that allows you to kick or row to upgrade your workout.
It provides hydrotherapy: Due to the jets and heat provided, a swim spa can help you heal from severe injuries and emotional or mental upset, resulting in a better quality of life. A swim spa relieves muscles to help you walk, move and sleep better.
It allows you to have private swimming lessons: If you're intimidated by swimming in a public setting or you don't have a public pool nearby, a swim spa gives you a manageable place for you or your loved ones to learn how to swim.
It creates a backyard oasis: A swim spa relieves stress and helps you unwind after a long day at work or home. Treat yourself to some relaxation and pampering in the comfort of your own home.
Can I Enclose My Swim Spa in a Sunroom?
Yes, you can cover your swim spa with a sunroom. You may consider enclosing a swim spa to take advantage of the following benefits:
You can use your swim spa at any time of the year.
The weather protection saves you time and money in maintenance.
You can reduce heating costs because the glass of a sunroom provides solar radiation.
Keep your children safer than you would with a fence around the swim spa.
The glass from the sunroom protects you and your loved ones from harmful UV radiation.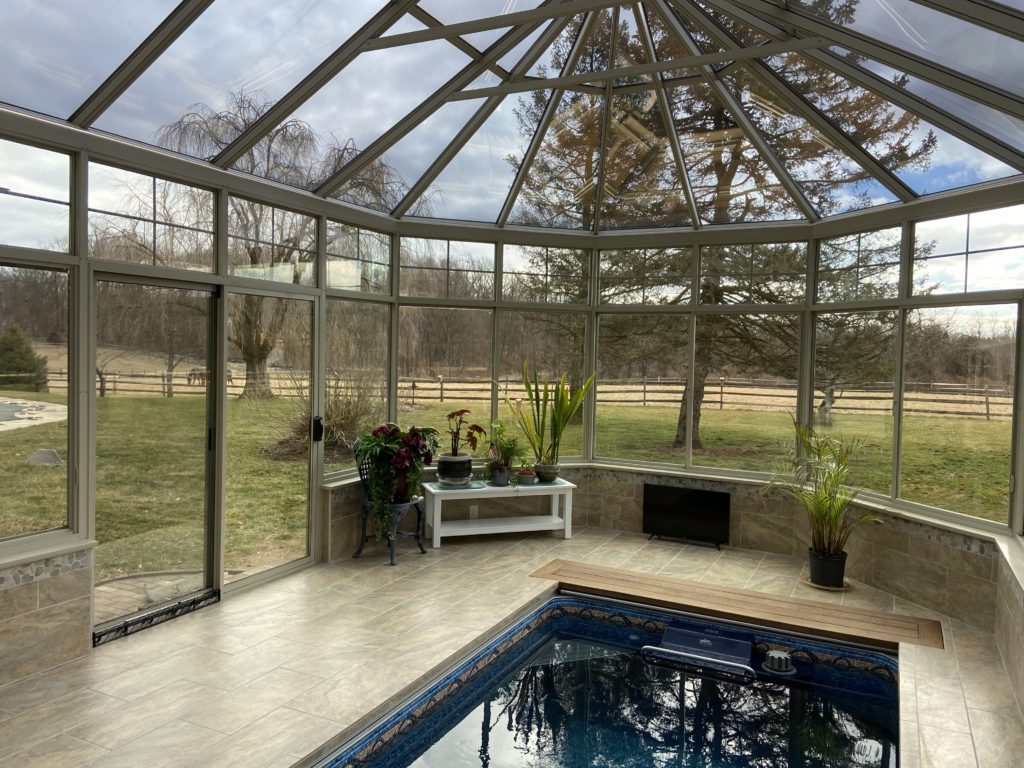 Contact PAsunrooms for a Sunroom Hot Tub Enclosure
PAsunrooms is the only exclusive sunroom builder with over 30+ years of consistent service in central PA. We're not a general contractor and we're local, so we understand what it takes to create a great addition in central Pennsylvania.
We've exclusively installed Four Seasons Sunrooms since 1987, offering service and installation for the most trusted brand in sunrooms. We offer free in-home estimates and design consultations and we're a full-service company. We handle everything from designing your perfect sunroom to getting the permits to prepping the site and installing everything properly.
Ready to get started? Contact PAsunrooms online or call us at 717-564-2244 to set up your in-home consultation and estimate.