A porch or patio can be a perfect addition to your home to give you extra space that puts you a little closer to nature. To make the most of your porch or patio space, you may want to consider an enclosure. Here's everything you need to know.
Types of Enclosures
Two types of enclosure exist:
Screen enclosure: For complete protection of your porch, you'll want a full-coverage enclosure. Our screen enclosures are made from a tough, reliable, aluminum structure. They also include added fiberglass screens to protect against pests that can ruin time spent on the porch or patio while still allowing the breeze to flow in and create the feeling of closeness to the outdoors.
Full enclosure: While our screen enclosures are made with aluminum and fiberglass, our full patio enclosures are made with glass walls. We offer a wide variety of styles to choose from, and we can also convert existing screen enclosures into full enclosures. A full patio enclosure can even be easily upgraded to a full sunroom.
If you're not sure whether you want a screened-in or full enclosure, contact us for a completely free, no-obligation consultation.
Benefits of Enclosing a Patio Cover
An enclosed porch or enclosed patio comes with a number of benefits, including:
Protection against the elements: Whether there's a rainstorm or a heatwave, having an enclosed porch will allow you to enjoy the outdoors without braving the elements.
Bug repellent: A beautiful day can easily be ruined by pesky pests. Enclosing your porch or patio will keep critters out.
Complete protection: While a patio cover just protects from above, a patio enclosure protects all sides of a porch, helping to keep it in better condition for longer.
How to Enclose a Covered Patio Into a Room
Enclosing a patio or porch can be a complex process. Here is a basic breakdown of the steps involved:
Framing: A contractor will build a frame to structure your enclosure. Typically this starts by attaching posts to the corners of the porch and determining how many frames you'll need. They will make sure the width of each frame is the same as the width of your screening. Then they screw the bottom of the frame to the floor of the porch or patio, then screw the frames together from the inside for extra stability.
Screening: For this step, the screen enclosure installer will roll out your screening and staple it along the sides of the framing every few inches, cutting the excess material. They'll also pull tightly to avoid wrinkles.
Roofing: If there's not already a roof, they'll add one to provide shade and protect the porch or patio. Depending on the pitch of your roof, there are different material options, including shingles and tile.
Flooring: Consider adding floor coverings for both aesthetics and functionality. For example, if you want to use the enclosure year-round, insulated flooring may be a strong option to consider. Or if you're looking for comfort, consider carpeting the floors.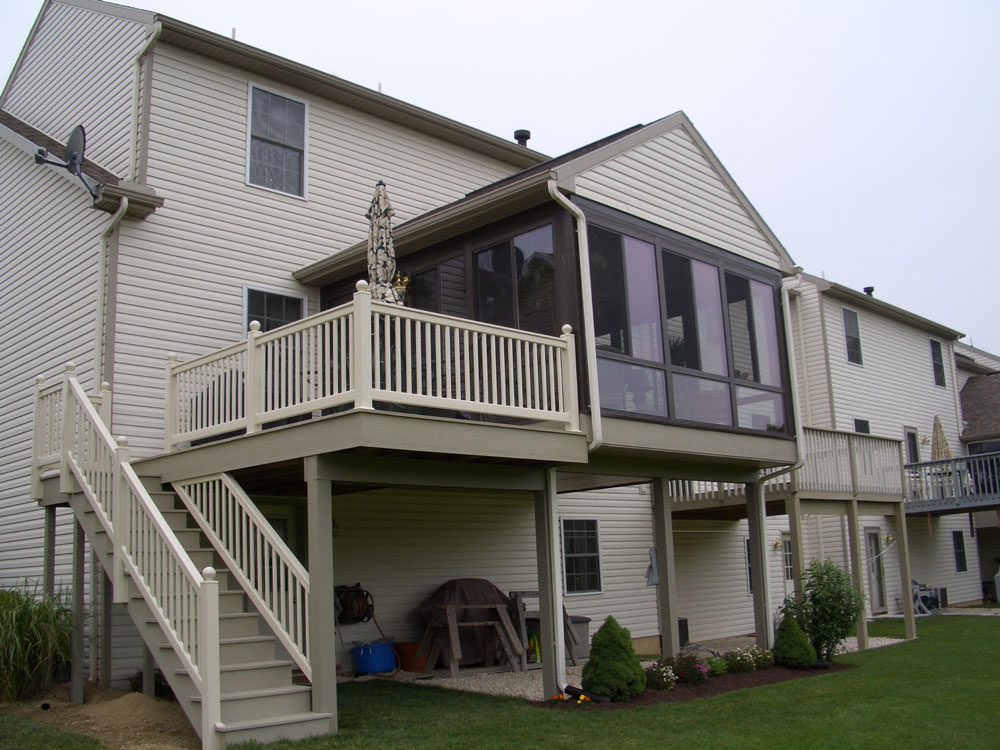 Let the professionals at PAsunrooms do the work and transform your space. Our experienced team will create the perfect patio enclosure to match your tastes and style. Call us at 717-564-2244 or complete our online form to schedule a free estimate.