With modern sunrooms, you no longer have to enjoy your exterior living space for just one or maybe two seasons per year. Having an updated sunroom installed on your deck can make outdoor relaxation and entertaining possible year-round, even in unexpected storms or cool weather. Adding a sunroom on your deck or converting your deck into a sunroom gives you a variety of versatile living spaces to enjoy the best of indoor and outdoor living and adjust your needs based on the weather in your area.
Different Types of Sunroom Additions
Adding a sunroom to your deck can extend your outdoor living and entertainment possibilities from just a single season to year-round, and there are several sunroom style options you can choose from to fit your needs and budget. When deciding to install a new sunroom to your home, consider these attractive designs:
Three-Season Sunrooms: Like the name suggests, these sunrooms can be enjoyed for three seasons of the year. Typically, the windows in this option are less protected and insulated, which is why this option is better for homes located in more moderate climates or if you don't live in your home for most of the winter months. However, this option gives you enjoyable outdoor living for most of the year even when it's rainy or windy.
Four-Season Sunrooms: This option is the perfect addition for anyone wanting unlimited outdoor living year-round regardless of the climate. With this option, you can choose from solid roof construction for versatile design or glass roofs to view the stars all year. At PAsunrooms, our four-season sunrooms are crafted with high-quality CONSERVAGLASS SELECT glass for added protection and improved energy efficiency.
Conservatories: Don't think this style is like a greenhouse — this design is detached from your home and features glass construction with a sturdy frame available in stunning Georgian or Victorian architectural styles. Enjoy a 360-degree beautiful and versatile outdoor space for relaxing and entertaining guests.
At PAsunrooms, we offer a wide variety of designs and options to fit your daily needs and budget, so you can enjoy the outdoors year-round with thermal roofs and durable aluminum, steel and glass construction. Once you've built your sunroom deck addition, you can then make the space even more stylish and comfortable by adding plush seating for relaxation and reading, hosting outdoor BBQs or creating versatile areas to meet lounging and dining or hobby needs.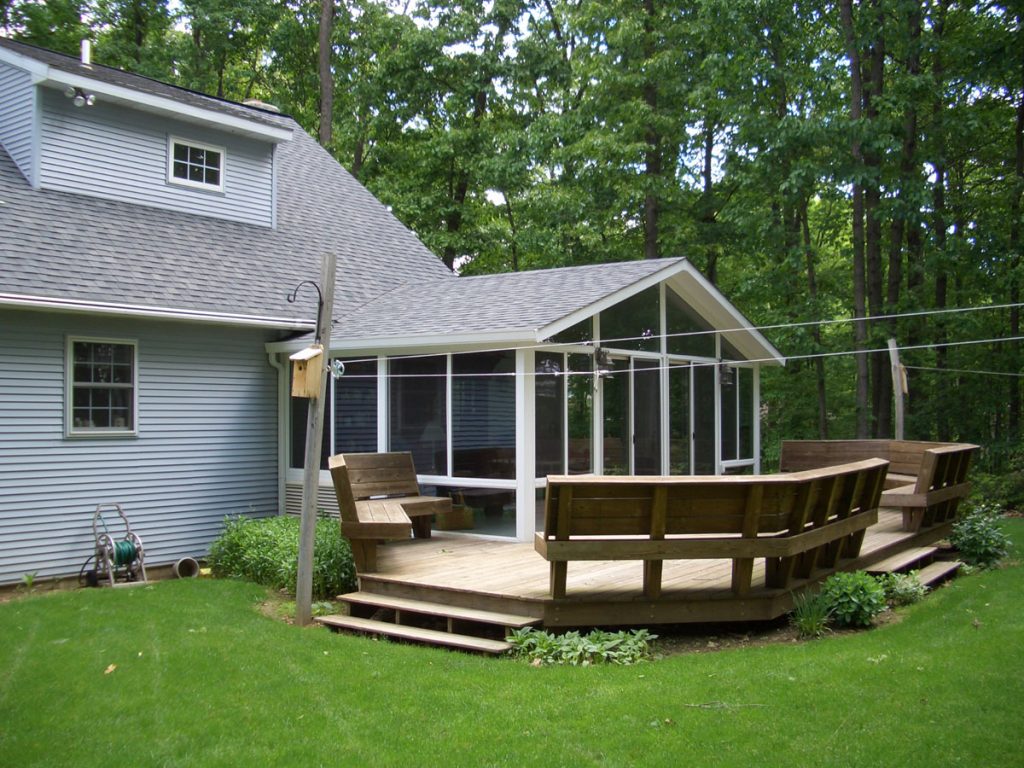 Update Your Outdoor Living Spaces With PAsunrooms
If you're looking to transform your outdoor living space into an enjoyable year-round experience, call the experts at PAsunrooms to help you design and install an attractive and quality Four Seasons Sunrooms & Windows sunroom on your deck. At PAsunrooms, we're a family owned and operated company with over 30 years of experience working with homeowners throughout Elizabethtown, Mechanicsburg and Lancaster, PA, and beyond. We offer a wide variety of durable and beautiful sunroom options, including three- and four-season sunrooms, conservatories, and LifeRooms.
For our customers' convenience, we even offer free estimates and in-home consultations, where we can work with you to determine your needs, expectations and budget. Schedule your free consultation today by filling out our online form or calling us at 717-564-2244 to speak to a sunroom specialist.