A family's home has sentimental value as the place where kids grow up, bring new friends from their neighborhood and relax after a day at daycare or school. Many families consider moving to a larger home when they need more space to store their growing family's items, including books, games and toys.
Instead of looking for a new home and packing up everything to move, you can save money and keep your children comfortable by staying where you are and renovating your home to add a sunroom or converting an existing sunroom into a kid-friendly space.
Accommodating A Growing Family
How will you get the most out of your home as your family grows? Refreshing and upgrading a room or building an addition to your house offers a solution for accommodating more children. Customization allows you to create a space more suited to your day-to-day activities and busy schedules. Often, a sunroom provides versatile uses in active households.
Adding a sunroom to your home can give you some much-needed space for storage, relaxation or social gatherings, and many people get even more out of these additions by making the sunroom a space for kids. A sunroom has the perfect open space to set up your child's kitchen playset or model train set and keep other games and toys stored. If that sounds like a good option for your family, PAsunrooms has some ideas to make the perfect playroom sunroom for your kids.
Making a Kid-Friendly Sunroom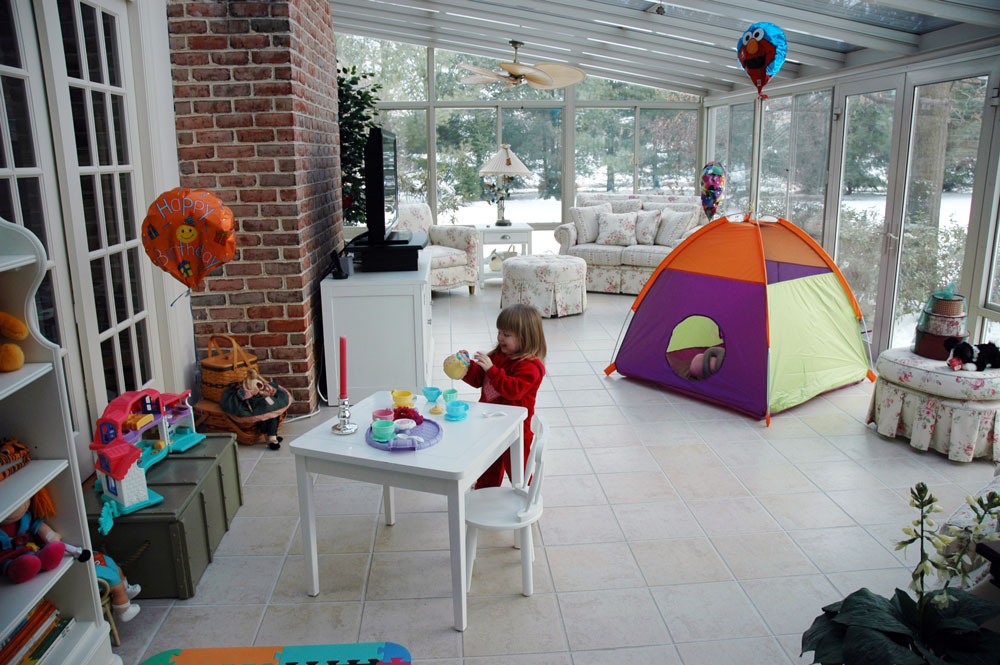 There are infinite ways you can decorate your sunroom to make it your child's new favorite hideaway. A lot of these decisions are based on the style of your sunroom and the preferences of your children. However, we have a few ideas to get you started.
A Safe Space for Kids
Making a playroom in your sunroom should begin with ensuring the area is comfortable for kids of all ages.
If your new playroom in your sunroom isn't already carpeted, you may want to purchase accent rugs to soften the floor using your favorite patterns and colors. As another option, consider adding foam tiles over the floor. Your kids will spend a lot of time in this place, so make sure they're comfortable.
Additionally, PAsunrooms designs solutions with quality glass to protect your children and belongings, such as furniture, from the sun's UV rays.
Decorations
As with any room, you'll want to add some decorations to liven the space up. If they're old enough, try consulting with your kids to get their input! As it will end up being their area, ask them if there are any colors or themes they would like to include. This process can help you bond with your family and learn more about what your child wants.
If you're on your own for decorating, think about including small items for accent colors, like a blanket or a chair. Many people find it challenging to decorate their sunroom since so much of the room is made up of windows. Take this time to get creative and choose some unexpected accents.
For example, consider hanging houseplants out of reach in a woven basket on the wall or ceiling of your sunroom. As beautiful decorations, flowers and greenery offer a lovely pop of color. You'll be able to enjoy the scenery around you while your kids play, and your plants will benefit from the sun.
Comfortable Seating
If your new playroom sunroom isn't already carpeted, you may want to think about purchasing some accent rugs to soften up the floor. Your kids will be spending a lot of time in this place, so make sure they're comfortable. Make sure you have somewhere to sit too — you'll likely be in here almost as much as they will. A cushioned patio chair that swivels can allow you to turn and watch your kids when they move around. A sofa in the corner of your sunroom provides another comfortable seating option you can enjoy while playing with your kids or supervising them.
Storage Solutions
With all the toys and games that will inevitably end up in this room, you'll need some storage space to organize them. Cubbies are a popular option, as you can keep them on the ground at a level that your children can reach. Play around with a few storage options and see which ones work best for you.
Virtual Learning or Homeschooling Space
By their very nature, sunrooms are quiet solace away from the rest of the house. With that in mind, your sunroom could be the perfect place for a homeschool or virtual learning setup! It will provide kids with the quiet they need to focus and refreshing sunlight to keep them motivated. This sunroom idea is especially useful if you have kids sharing a bedroom who both need an area to do their work.
PAsunrooms Can Help You Make the Most of Your Space
For the most diverse choices in sunroom architecture, get the best from PAsunrooms. We've served Central Pennsylvania for over 30 years and will be happy to help you design a sunroom your whole family will love. Visit us at one of our design centers for inspiration, call us at 717-564-2244 for a free estimate, or schedule online today!